With Election Day less than two weeks away, Headcount is ramping up its efforts to make sure that everyone does their civic duty and heads to the polls. But it's an effort that the organization has been pushing for months, stressing the importance of voting and persuading concertgoers to register.
Highway 81 Revisited spoke to Aaron Ghitelman, the communications manager for HeadCount, a matching non-partisan, non-profit that – as Ghitelman says – uses the power of music to help engage Americans in their democracy.
Since its inception by musicians like Bob Weir of the Grateful Dead and Marc Brownstein of the Disco Biscuits in 2004, HeadCount's signups number around 300,000, with 500,000 quickly approaching.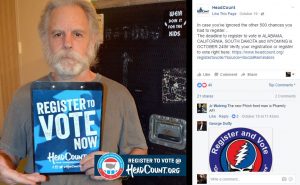 Ghitelman, who has been with HeadCount for almost two years, talked to H81R in July, during the peak of the Dead & Company tour, about the organization's infancy to its adolescence, on tour with Dead & Company & Phish. Now, instead of just carrying a clipboard, HeadCount and the others in Participation Row do everything from handing out free scoops of Ben & Jerry's ice cream in the parking lot of a Phish concert to teaching about solar energy to auctioning off guitars signed by the artists.
From 2004 until now, how has HeadCount evolved?
As far as the changes on Dead & Company, versus that tour in 2004, we're still registering voters in the Dead & Company shows – we're registering about 100 new voters a night. We're also running Participation Row – social action – on the Dead & Company Tour.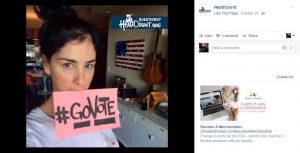 So it's us, our partner organization, Reverb, and we're getting the participation in social action events which is just a couple of non-profits and just for music lovers to take action and just make it interactive and fun experience – not just "OK, you're walking by a booth," but, "You're walking by our booth, you're taking an action, you're getting a limited edition pen, you're getting entered for a chance to win a signed guitar." So it's really just kind of taking the non-profit experience at a live show to the next level. And that's something we're able to do after 10, 12 years of being that non-profit – you see what works, you see what doesn't work and we say, "How can we help raise the voices of a lot of other organizations that might not necessarily tour the way we do but might have just as much of an impact in the world?"
At the Dead & Company shows at CitiField (Queens, New York) in July, there was a guitar giveaway as well as a few guitars that were part of an auction. Are there guitars at every show?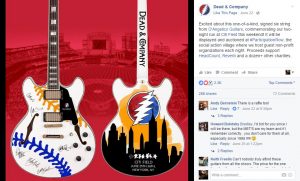 Sometimes, we do… We do it a bunch of different ways. It depends on the artist …we have a partnership with D'Angelico Guitars. Last year, D'Angelico donated a guitar to us before The Grateful Dead's 50th Anniversary shows in Chicago, which we got signed by the band. And we held our live silent auction on site in Chicago, and we sold the guitar for, I think, $526,000, making it now, I think, the 17th or 18th most expensive ever purchased.
Wow.
Yeah. And we split that amongst the 20 non-profits at Dead 50 Participation Row, and it's just an exciting way to generate money. Because, oftentimes, a non-profit that is going out to a concert or festival, they're going to take a loss, they're going to take a hit setting things up but, thanks to partners like D'Angelico and bands that'll sign them and that type of stuff, we try to make it so that, if you go to these events, you're making money for your organization. You're not taking a hit.
So, basically, people come to our booth to get prepped so they're ready in November which, so then we'll send them a reminder via email that November – the day before the election or the week before the elections so they'll remember to vote – and they enter the giveaway to win these badass signed guitars.
Bob Weir is pretty vocal about concertgoers finding HeadCount and registering to vote because, as he says, it's our future we're dealing with. Is HeadCount a Dead organization?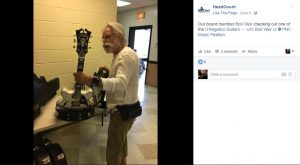 I would not say HeadCount is a Dead organization but, that being said, the Dead – and Bob Weir, especially – have been very kind to us over the years. So HeadCount started in It was a collaboration between our two co-founders, Andy Bernstein – who is our executive director and co-chair of the board – and our other co-founder, Marc Brownstein, is also a co-chair of the board. And Marc Brownstein, for his day job, is the bassist for the Disco Biscuits so I don't know if I would say we're a Biscuits' organization – we say we're a music organization and we collaborate with artists across all lines – but we started in the Biscuits and the jam band community, in that world, just through Marc and Andy bands' interaction.
So we started in that area and Bob Weir, actually, I believe, was not a founder – but has always been on our board of directors, either as soon as we started or very early. And he has definitely been a big, big supporter on the Dead & Co. tour – which is incredible. Unfortunately, I have yet to be at a Dead & Co. show but I have seen a couple of his shows and it's impossible to not to get chills. Bob Weir gets up on the stage and he says, "Go out to Participation Row, find the HeadCount booth and register to vote."
How does HeadCount hook up with the touring artists?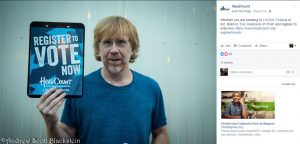 So, for the most part, we have an incredible director of artist relations, Macy Nix. There are the core bands – so the Disco Biscuits, Phish, the Dead, Michael Franti, Dave Matthews, even partnering with emcees who start it – but, with something like the Thorns or Haim – those are people that she'll vet out, she'll contact them, she'll reach out.
Obviously, not every band we reach out to says yes – some bands have their own non- profits.
And then another thing we do is we partner with a lot of venues so, a mid-size venue in a lot of parts, we have residencies at. I don't know the exact number of residencies we have but – and that just means that whoever comes through town, we'll register voters at the shows – and oftentimes, through those residencies, we'll get connected with other artists that we wind up adding to our touring partners list.
How does HeadCount train the volunteers? What do you do when somebody comes up and says, "Who should I vote for?"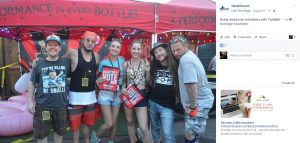 So, the simplest answer is, if somebody comes up to you – and, if I'm volunteering – and says, "Who should I vote for?" I'll smile, look them in the eye, and say, "Whoever you want to vote for." There is a lot of training and, sure, first off, you have to train new volunteers on how you register someone to vote – on the intricacies of the voter registration form and the differences between each state and each state requires different types and amounts of information – so, in that regard, we do have fully experienced volunteers.
Luckily, we also have an incredible core group of veteran volunteers. They're the heart, and soul and backbone of HeadCount. I believe we have 60 to 80 volunteer team leaders and that's in 30 key cities across the country and they're the people who make HeadCount happen.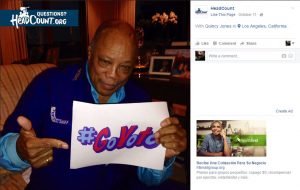 But as far as the non-partisanship, it is interesting because there's no human that doesn't have bias, but it's impossible for somebody to not have that genuine sort of bias in their system so we encourage people to invoke those discussions – talk in broad terms about democracy, about ways you can make an impact and really involve hypotheticals and talk about the issues. They're not endorsing either side but they're aware that certain issues are things that we have to vote on. So there's a lot of people voting as solely presidential election but there hundreds of thousands of other elections happening in this country this year. And it's just, "OK, let's boil it down to something that matters for the individual," because, every presidential election, that's big. That's something that gets them… Obviously, things that the president does affects their day-to-day lives, but not quite the same way as your county board. At least to say who's really going raise your taxes and that's at the local level.
What is HeadCount's role in Participation Row?
Participation Row is something that HeadCount started, I guess, at the first Lock'n Festival in Arrington, Virginia. So Lock'n was a festival put on by Pete Shapiro and then he put on about 50 shows, he owns the Brooklyn Bowl franchise, he owns the Capitol Theatre up there in Port Chester and he's on board of directors at HeadCount. And then what he started, Andy Bernstein, our executive director, and our management director put together and created this event with non-profit, social action village.
But, at the first Lock'n – which I think it was 2013 – HeadCount launched Participation Row and that was a way of paying attention to the non-profits, making it fun, making it interactive – easy to engage. Because, oftentimes, it's like the non-profits usually spread out – they're not together – and they might be out of the way.
How is it decided what organizations are involved in Participation Row?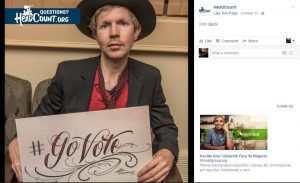 I don't oversee the process but it's… So, for Lock'n, we'll send out applications and whichever non-profits have the most engaging activations. So the real key is to not just show up and explain what you do but we're actually looking for someone to show up and participate. An organization like Love, Hope, Strength will swab your cheek to see if you can go on the [organ] donor list.
It's that type of thing where it's like, if you have an activation – if you have something that can be done – and that's something that you can make an impact while you're at the festival, that is actually what we look for. And as far as the Dead & Company tour and Dead 50 in Chicago last year, most of the orgs were hand-picked by the band. So these were organizations that the band had a connection with, that they personally support and that they want to be on tour so they benefit from the auction.
How much access does a HeadCount volunteer or anyone at HeadCount have to people's information, and how is the information safeguarded? If somebody says, "Well, if I give you my information, can you change my voter registration without me knowing or will you sell my information or…?"
Oh, we don't sell any information. So we're not collecting… So what we do is, when we register somebody to vote, there's a team leader – a veteran team leader who's gone through a voter registration vetting process – and yeah, we look over them the day after the show or the festival, we mail that folder to our office in New York. And then, in New York, we process those forms – we double check the forms, make sure they're filled out correctly – from there, then to either the state or county board of elections.
Is there anything that I didn't ask that you think is important for people to know?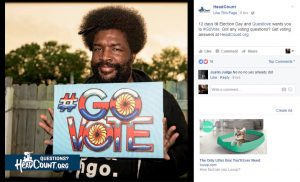 So much of when people engage in politics, they see what they see on TV and they see the campaigns. But so much of that is about backstabbing … but the way that HeadCount approaches it is more positive stuff. What can you do to improve politics and have politics make a difference – and just this whole different vibe.
And, when we register people to vote, a lot of people who were wary of politics come and when they come across our campus and they're talking to an actual volunteer – who there's no motive, there's no claim, there's no, "This is why we should vote. This is who you should vote for" – it's very refreshing and it's just an oasis in the political climate right now to have unearthed this positive, awesome oasis of people who are talking about politics and smiling.
If you missed Participation Row and the guitar giveaways this summer, HeadCount doesn't stop once the festival season is over. The organization reminds the power belongs to the people in indoor events, too, like these upcoming local concerts.
 11/02/2016
Animal Collective
Terminal 5, New York, NY
11/02/2016
Toots & the Maytals
Brooklyn Bowl, Brooklyn, NY
11/03/2016
Griz
Terminal 5, New York, NY  Volunteer!
11/05/2016
Joan Jett
Capitol Theatre, Port Chester, NY
11/08/2016
Soundtrack to History
Brooklyn Bowl, Brooklyn, NY