With a powerful, bluesy voice, and a sexy, swaggering stage presence, Grace Potter seemed destined for stardom before she achieved it.  It didn't matter if she was playing to a half-full venue as an opening act or playing a bottom-of-the-bill festival slot, Potter, and her band The Nocturnals, did not have to amp it up as their profile – and the stages – got bigger.
Touring behind last year's "The Lion The Beast The Beat," GPN will hit the main stage Friday, Aug. 16 at 5:15 p.m. as one of the featured acts at this year's Peach Music Festival in Scranton.
We recently chatted with Potter about the festival scene, a meeting with Robert Plant, how her new album is like a mixtape and how she's handling her growing popularity.
H81R:  How does a show like Peach differ for you guys from a headline show, where you can play a long set and everyone is there specifically to see you?
GP:  I always look at it as almost an unfair advantage, because by nature, people at festivals come to see more than one band.  But I really love taking people by surprise.  So it's a great opportunity for us to bring about songs that maybe we normally wouldn't have done, we like to take requests, we like the fans to be a part of it, but also recognize that this is a community of musicians that are all there together, sharing the fans, ya know?  I think it's a really great opportunity to gain new fans, but I also think that people come to a festival knowing that they're going to be surprised, almost ready to be impressed, and you don't want to let them down.  So we always bring our A game, and we know that it's our chance to share our music with a much broader audience, and it's just fun.  It's where we came from.  We came up in that scene, so we know exactly how to do that.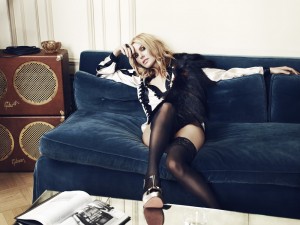 H81R:  How do you approach other artists sitting in with you, or vice versa, at an event like this?
GP:  It depends on the artist.  A lot of the guys that I know are really organized and might think about it a couple weeks in advance.  But I think everyone knows that we musicians are slackers, so I would say that 90 percent of my collaborations happen on the spot.  Sometimes when I'm doing a festival, because we have our own festival up in Vermont (Grand Point North), I'll reach out to the artist in advance to make sure that if someone is not interested in being part of it that I don't count on them.
At a festival like this, and with the nature of the dudes, I mean Warren and Derek, these are people that I've worked with for years and years, we have such a sure hand that if we were to do something, I think we could fall into it pretty quickly and without forcing it to much or sending a bunch of e-mails back and forth.  It's not necessary with guys like that.
H81R:  Recently, you came off the stage after playing at a festival in Australia and were told that Robert Plant "requests an audience with you."  What was that like?
GP:  Oh my God (laughs).  A lot of palpitations.  We were very excited, and what was cool for me was watching the guys.  Me and Matt (Burr) and Scott (Tournet) have been a band for more than 10 years now, and that music, the Led Zeppelin music, the rock 'n' roll music, the devil's music, that music changed us.  And so it was a full-circle moment that I could just sit back and watch, because I felt, more important than me going up and saying hi to another celebrity, I actually just wanted to see this from the outside.  So I actually sat in a corner and watched Scotty and Matty having this moment with Robert Plant, and they all just sat down, and he so casually just came and kind of melted into a chair and just engaged them and regaled them with stories that I don't think they'll ever forget.  But also to see that full-circle thing with them and not have it be all about me getting all the moment, I think that happens a lot where I get to meet people and they don't necessarily get to meet people, and he wanted to meet all of us.  He didn't just want to meet me, he wanted to meet the guys, and that was really special to me.  It was an opportunity to watch them living out a childhood dream for sure.
H81R:  "The Lion The Beast The Beat" is such a diverse album.  Was it difficult to make the songs work together cohesively?
GP:   I mean, that was the whole thing with the record.  I knew it was like his mixtape of my mind at the time.  I don't know if you ever had a mixtape made for you.  You're old enough to know what a cassette is, right?  OK.  That time of my life when I was making mixtapes was what nurtured me into the music fan that I am today, knowing that when I make music, when I put music on a tape . . .  I never really listened to albums until I had my parents' record player and they finally let me use it, which took a long time.  But before that it was always song by song, just like the radio.
So this album was a tapestry, not to reference the Carole King album, of all the emotions and all the feelings that we had going into making the record, not knowing what kind of record it was going to be, and recognizing the fact that a large amount of the world knew us as the "Paris (Ooh La La)" band, ya know?  And what my goal was to take the pressure off of that and to forget about that.  Because it was a completely minor hit.  We're not talking about, ya know, an Adele song here.  We're not coming off this globally successful album.  It's always been a beautiful progression with us; we've always grown slowly.  So I wanted this album to reflect that:  the fact that we've grown slowly, the fact that we've really chewed on each record and the fact that each record has had some level of continuity up until now.  So wait a second.  We don't just sound like one thing, we sound like five or six different things all at once.  So I thought it would be a good opportunity to blow that foghorn instead of pursuing this genre-specific, ass-licking industry, radio-friendly thing.
H81R:  Was the slow growth of the band ever frustrating?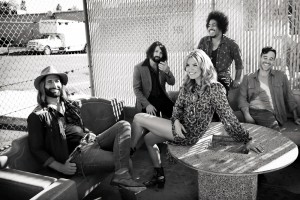 GP:  Oh yeah, I mean naturally I think that happens every once in a while, but it's not at the forefront of my mind, because I think at the end of the day, I'm really happy not to be super famous (laughs).  I have anxiety nightmares about having to have a security guard around or being one of those people that you can't talk to.  I don't know, I know how I feel when I see someone walk in the room that's super famous, and I'm like "I can't talk to them, I'm not going to talk to them," and I wouldn't want to be that person, because I know what it feels like to be on the other side of it.  Having said that, you can't avoid that at all times and there are opportunities that happen in your life that change things, change people's perception of you.  You can't be everything to everyone at all times, so, for me, that revelation for me in the last couple years was the big transition in making the album that I made with the band, producing it myself and kind of being really way more hands-on that I usually am, and taking those reigns and recognizing that anyone else who had produced this record would have made it differently, or written or co-written these songs would have done it differently.
Every step we've taken to get to this point has been a good step.  It's never regrettable to say we haven't had the big hit.  I want success, I want to change the world with rock 'n' roll as much as the next person, but I think that patience is a big virtue when it comes to that.  I know that.
H81R:  I saw you open for the Black Crowes at Penn's Peak five years ago, and you performed as if you were an arena-headlining rock star.  Was that "fake it til you make it" approach always part of your philosophy?
GP:  Exactly.  You nailed it.  It's funny, my dear friend came up to me the other day and said, "I remember seeing you, and there were 15 people in the room, and you were playing to this room like there were 15,000 people there."  And that right there, that should be on my gravestone (laughs).  Not really, because the band isn't everything about me, but that definitely, if the band ever had a gravestone (laughs), that should be on it, because that's how we've always been.
We've always had these delusions of grandeur, and thought that we were. . . . Every step of the way, we were like "We made it, we're here, we got it."  I've never had that longing to be someone we're not or to get to that place or to think about some sort of number in your bank account or anything like that that defines you.  What has defined us is the music that we're making, and that's always been the case, even in those years when people were kind of questioning "Why are you wearing sexy dresses all the time?" and why is this happening and why is that happening?  No, no.  If you listen to the music, you would see exactly why all those things are happening, and it was never out of desperation or a sense of "Nothing's working, let's try this now."  It's always been where the wind takes us and where our influences take us.
H81R:  What's next for you and the band?
GP:  I'm writing with the intent of nothing, which is great.  I like that there is no ultimate deadline set for you.  It's been a while since I've had that feeling.  The songs are flowing slowly, but the ideas have been brewing basically since the last record came out.  So I've been writing them down, I've been thinking about maybe doing a side project, something fun with a friend.  Coming this October we will be taking the time.  So who knows if I'll dive right into the next Nocturnals record or if I take a month or two to try something different.  I think the guys are all eager to make music and try something new.  Scotty and Benny (Yurco) both put out some great solo material that I would imagine they would probably want to go touring on, so I plan on being in the front row for a lot of those shows.  And who knows what will happen after that?  I think it's anyone's guess.  It's the first time we really had an indefinite amount of time off.  So this October is our last show, and then I disappear.