Despite claiming he was "pretty lousy" when he started playing guitar at age 8, G. Love (born in Philadelphia as Garrett Dutton) has created a form of trashcan blues melded with hip-hop. If you've ever hoped for a Bob Dylan/Run D.M.C. collaboration, be sure to check out the Mushroom Stage at 6 p.m. on Saturday, Aug. 15 – day three of the four-day Peach Music Festival at Montage Mountain in Scranton, Pa.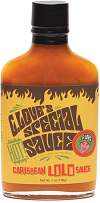 While not only improving his guitar game, G. Love has also added the mouth harp, Jeffrey Clemens and Jim Prescott. The trio, known as G. Love and Special Sauce since 1993, hasn't relied on a catchy name or gimmicks, as evidenced by the rapid-fire releases of "Sugar" in 2014, a follow-up, "Sweet 'N Blues" in June and new project expected very soon.
Including their musical hustle, the saucy gentlemen have spiced up their lives by releasing a line of hot sauces, which are available online through the band's website. The sauces come with very specific instructions: "Put it on your food – not your baby!"
Wise words and a fairly easy direction to follow.
To get the 411 straight from your friend G. Love, check out Highway 81 Revisited's interview below: