Two-time Grammy winner Eric Krasno still considers himself fortunate for his ability to play guitar a quarter century after he shattered his left elbow in a fall during a basketball game his freshman year of high school.
The mishap in his Connecticut hometown was an awakening, a musical turning point that makes the co-founder of jazz-funk bands Soulive and Lettuce, who has toured with Tedeschi Trucks Band — as a  bassist, no less —  grateful to this day to be doing what he's doing.
"I rolled over this guy's back. I was going in for a full-court lay-up, running all the way down the court," recalled Krasno, 39, whose introduction to guitar was on bass, in his older brother's high school garage band.
Right-handed, Krasno, based in Brooklyn since 1999, relies on his left hand to be his fretboard operator.
"The guy went underneath me," continued Krasno, who took up the violin around the age of 4.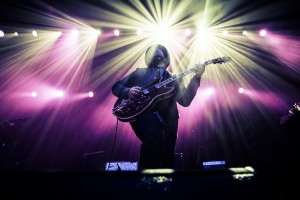 "When I went down, I crushed my elbow. My humerus was stuck out of my skin. It basically crushed my elbow. They weren't sure if I'd ever use my hand or arm.

"I couldn't move my fingers. I forced myself to play guitar, slowly but surely. My theory was it dramatically helped my movement. I forced my fingers to move. I definitely have full motion now. I definitely still have pain from it. I realized, the thought of not playing guitar … I dreaded it. So, I got more serious about it. If there was a possibility of not doing it, I'd be distraught. "
Krasno, a prolific songwriter and record producer who has worked in the production of albums for Norah Jones, Tedeschi Trucks, 50 Cent and Aaron Neville, has  played it safe on the basketball court ever since.
He laughingly recalled enforcing a "no-contact" rule during pickup games with musician friends back in college — first, at the Berklee College of Music and, then, at Hampshire College in Massachusetts.
Musically, the improvisational guitarist whose performances have been historically instrumental, hasn't exactly taken the same conservative path.
Except, that is, for when it comes to his voice.

He's literally always kept his voice in the background, lending backing vocals for artists he's worked with, such as Tedeschi and Trucks.
For the first time in his career, Krasno has stepped to the microphone in the role of vocal frontman for his own Eric Krasno Band.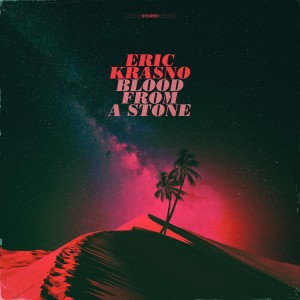 His r&b-based solo album, "Blood from a Stone," is due to be released this week, coinciding with a tour with his solo project's touring six-piece band.
The band played Saturday at Boulder, Colorado's Fox Theatre, performing with Dumpstaphunk. The tour returns to the east coast for a July 7 record release show at Brooklyn Bowl — Krasno's home court. That's where Krasno is the de facto house musician and where Soulive has hosted its annual "Bowlive," a two-week, 10-night residency that welcomes a changing list of big-name collaborators.
Krasno also has dates for Soulive, which once opened for the Rolling Stones, penciled in for Sept. 14-15 at the Amphitheater at Coney Island during which the band will sit in for a two-night run with Grateful Dead bassist Phil Lesh and an all-star Phil Lesh & Friends lineup that will include saxophonist Karl Denson, keyboardist-violinist Jason Crosby and singer-songwriter Jackie Greene.
"I love it. He's such a creative person," Krasno said of performing with Lesh. "There's nobody that sounds like him. He wants to stretch out the music. I've known Jackie for a long time. I've played a lot with Jason Crosby."
During a recent interview with Highway 81 Revisited, Krasno spoke of no immediate commitments for Lettuce tour dates.
"We definitely have plans to do as much as possible. We'll be out there for a while" he said of the solo band, which will tour the south in October.
"I got to the point where I wanted to do my own thing," Krasno explained of his lead vocal evolution. "You work with a lot of people. I've been out on the road doing instrumental music. I wanted to eventually combine this together (with vocals). I wanted to get out in front and perform.
"I also started working with (writing partner) Dave Gutter (of Maine-based, rock-jazz-funk band Rustic Overtones), and we started writing a lot of songs together. He definitely pushed me to be a lead singer. He said, 'Man, you sound good singing these songs.'
"I was kind of figuring out my vocal technique as it was happening. A lot of it was experimental. I like how it came out. It's been an interesting journey. It's a great experience to just play around."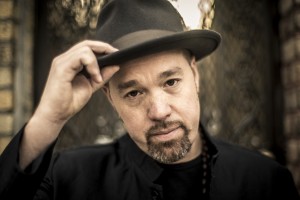 Krasno's vocals on "Blood from a Stone" exude a certain Jimi Hendrix/Lenny Kravitz-like flavor, which makes sense  considering Krasno grew up listening to an eclectic mix of Hendrix, Led Zeppelin, Grateful Dead and hip-hop acts like the Beastie Boys.
"Some of the initial ideas that would eventually wind up on the album were written thinking others would sing them," Krasno said of his writing sessions with collaborator Gutter. "But when they were introduced to different artists, it wouldn't necessarily work out. Eventually, I realized some of the songs we'd been writing were more personal and would be better suited for me to sing."
Long-time friend Derek Trucks and his wife Susan Tedeschi turned to Krasno back in 2013 to become the bassist for their Tedeschi Trucks Band after the departure from the band of Oteil Burbridge, former bassist of the Allman Brothers and current bass man of Dead & Company.
Krasno, who has  his own recording label — Feel Music Group — and Trucks had known each other for decades  — since Soulive opened during its first national tour with the Derek Trucks Band back in the 1990s.
Bass being the instrument Krasno played in a band, it seemed natural to jump aboard.
"He's one of my favorite current guitar players for sure," Krasno said of Trucks. "I did some songwriting for the first two (Tedeschi Trucks) albums.
"On tour, I realized how insane their schedule was. I was a placeholder while they found a permanent replacement. I needed a lot of things I had to get to."
Tedeschi Trucks eventually hired Tim Lefebvre, the last bassist to record with David Bowie, to be their permanent bass player.
But Krasno and Trucks continue to collaborate.
Trucks makes a guest appearance on Krasno's solo album for the track "Curse Lifter," an instrumental described as an Allman Brothers-Santana crossover.
"People like to work with Kraz because he brings a lot to the table," Trucks told the Wall Street Journal last year. "He's a really good, deep listener, and he hears music both rhythmically and harmonically and as both a producer and a musician. There are not many people who can check all those boxes."