There are a handful of guitarists that seem to be universally revered by fellow players, regardless of genre. Jimi Hendrix. Jimmy Page. Eric Clapton. Stevie Ray Vaughan. Tonight (Saturday, Jan. 21), the latter, whose fiery brand of Texas blues crossed over and captivated rock fans before his untimely death at age 35, will be the subject of a tribute performance by Dustin Douglas and the Electric Gentlemen, a band fronted by its namesake guitarist and vocalist.
The show, at the River Street Jazz Café (667 N. Main St., Plains, PA), gave Douglas the occasion to dig deep into Vaughan's music, and he came away even more impressed than he was beforehand as a long-time fan.
"Not since I was probably just coming up, just learning, did I really sit and dive into Stevie as much as I just had to, so it was cool to revisit it," he says. "It blows my mind. He never had any bridges…Then there's just his playing. It wasn't anything too technical, but it was so fierce and so honest, I think that's why people gravitated to it."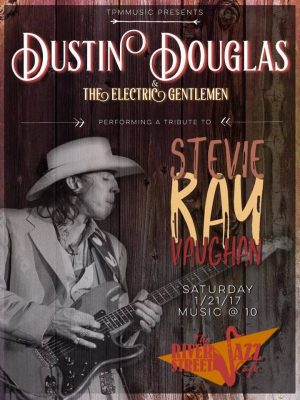 Vaughan led the trio Double Trouble and broke through with his 1983 debut record "Texas Flood" and his best-known song "Pride and Joy." His rise and fall was meteoric — just four albums; acclaim among fans, critics and musicians, including David Bowie, who enlisted him for his "Let's Dance" album; drug and alcohol struggles, including a cocaine bust; and his untimely death in a helicopter crash in 1990 at age 35.
Douglas says he's partial to "Texas Flood" but adds that Vaughan's fourth record, 1989's "In Step," "was pretty awesome." "As it got later and later, it kind of got more '80s and polished," he adds. Asked to share what he thinks is SRV's quintessential song, he says, "Of course, 'Pride and Joy' is his calling card. We're so fucking sick of it because white blues bands have murdered it for decades," he adds with a laugh. "But I think that really shows what he can do. Funky stuff like 'Willie The Wimp' really stands up, too. That's the kind of stuff that catches my ear."
Douglas — who is joined in the Electric Gentlemen by bassist Matt Gabriel and drummer Tommy Smallcomb — has had to tinker with his gear a bit leading into Saturday's gig to get that SRV vibe just right.
"I've been playing my Gibson P90, so this will be the first gig where I'm going to be solely playing a Stratocaster for a while," he says. "I had to go into storage. It's what I started playing on, so now I love playing Strat; it's kind of fucking with me in that way. Amp-wise, that's kind of my tone anyway. I did have to get some stuff serviced. I got the '68 Silverface Fender Twin (amp) back from the shop, and I redid my pedal board."
SRV's legacy lives on, and many guitarists have attempted (and some have even succeeded) to use his spirit and sound as a springboard. Asked who's been carrying the torch best for the late master, Douglas offers an answer that might come as a surprise to some listeners.
"I'd have to say he hides it very well, but if you really listen to Gary Clark Jr., he definitely has that Texas style. They're both awesome cats, and people don't [make that comparison] right off the bat, and it's probably because Gary is a young black man who's very soulful. But when he solos, there's the dryness. I definitely think Gary is carrying that torch. I think it's just a Texas thing."