It would be easy to put Driftwood into a bluegrass category, but that isn't really what the group does. It's kind of rock 'n' roll meets fiddles. "From the Binghamton, New York music scene comes Driftwood, a band with a rock n' roll soul and a folk art mind," according to the band's bio. "Carving out a name for themselves with electrifying live performances, they bring one of the most unique, raw sounds to the Americana/roots music scene."
Rock and Root, perhaps?
The band has been together since 2005, Claire Byrne (fiddle, vocals) told Highway 81 Revisited, but she didn't join up until 2009. Since then, the group – Dan Forsyth (guitar, vocals), Joe Kollar (banjo, vocals), Joey Arcuri (bass) and Byrne – has released three studio albums, one live album and fans can expect a new studio album in November. Those who are heading to Susquehanna Breakdown on May 20 and 21 at Montage Mountain in Scranton, Pa., will get to hear a little bit of what the new album has to offer.
H81R: Will we hear any of the new stuff at the Breakdown?
CB: Absolutely, yeah. We're playing most of the new stuff. Probably about 80 percent of the new stuff we're playing now in our set. Yeah, you will definitely hear a bunch of that. We're trying to save a couple of surprises on the album as opposed to playing all new stuff, so when you get your album you'll have a couple of surprises on there, but there's a lot of new material.
You played Susquehanna Breakdown two years ago. Tell us about your experience.
The Breakdown was amazing. The Breakdown was great. I remember we had a British emcee that we really liked. What was his name?
He was really cool. We were just met with such warmth from everybody that we encountered and people in the audience had an amazing energy about them, so it was a really warm festival so we're looking forward to returning.
What can people expect from Driftwood this year?
People can expect, even though we're a string band as far as configuration goes, people can really expect to rock and roll. We basically play rock and roll on string instruments. We expect everyone to have a really good time. A lot of dance … They will smile. People will definitely smile.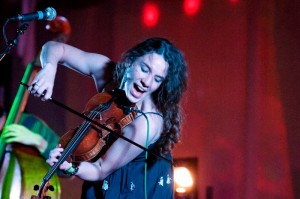 How do all of you balance touring and recording in the studio? You have a pretty lively touring schedule!
We took off pretty much all of January and part of February to do some really hard work on the album. And beyond that, you gotta play shows; you gotta make money. You want to. You want to go out there and play, so we have just been hitting the studio in the week when we're home and then out on the weekends, so it's kind of a lot but it's become routine. It's becoming pretty normal now.
Most of Driftwood's music is original tunes, right?
Yeah, we do all original music. I mean, in a show we'll do a couple traditionals or something like that. I guess we have a couple covers here and there, but it's pretty much, you're gonna hear all original music.
Who writes those songs?
We all write, actually. Dan, Joe and myself do most of the writing, but we have written a few songs all together the whole band as well.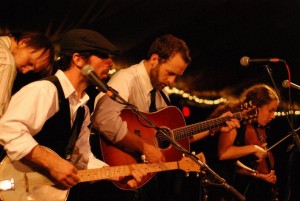 What drew your ear to bluegrass?
For each of us, it was actually something different, and then we kind of aligned. But I guess, so, Dan went to Colorado and he picked up a mandolin when he was out there; he just loved the sound. He listened to a lot of [Jerry] Garcia and [David] Grisman and "Pickin' on the [Grateful] Dead." For me, it was "Old and in the Way" and that was it. I just had to play it. I heard Vassar Clements, and I was just blown away.  Before that, maybe just from playing some Irish fiddle tunes and stuff and just really, really enjoying the feeling I got from playing those tunes which is really different than playing classical music.
How did the band meet?
We met… well, Dan and Joe went to school together and knew each other for, like, 20 years. I met them – and our bass player also met them actually – through mutual friends. We essentially just set up a band blind date and we needed a bass player and they were all over it. They had a suggestion there too, and it turned out to be our bass player.
When did you start playing the fiddle?
I started playing when I was, I guess, 8 years old, so I've been playing for about 22 years.
How does an 8-year-old get into the fiddle?
Well, it was violin back then! (laughs) I know a lot of 8-year-old children who are into the fiddle, but for me it was violin. It basically turned into fiddle music later on. It was offered in school for me and I just gave it whirl and loved it!
Then I'll ask, how do you feel about funding for music education in schools?
I'm a huge, huge advocate for it, and I think it's really important. And I think without that funding that I had  – I was fortunate to have that – I wouldn't be doing what I am now. I wouldn't be the same person. It's really important to me.
Catch Driftwood's Susquehanna Breakdown set on the Breakdown stage on Saturday, May 21 from 6 p.m.to 7 p.m.