There have been a lot of exciting things percolating for Dezron Douglas, New York jazz bassist, band leader, band member and coffee aficionado. His quartet's new album, "Atalaya," was released Nov. 18, and he'll celebrate with album-release shows on Friday, Nov. 25 and Saturday, Nov. 26 at Smalls Jazz Club in New York; both shows will be livestreamed. And the self-proclaimed coffee snob has collaborated on a blend, also called Atalaya, with Four Letter Word of Chicago.
Atalaya is the name of an elementary school Douglas performed at — "a tough audience, but they loved it" — before the coronavirus pandemic shut down the live music industry. At the end of 2020, he called the members of his quartet — George Burton (piano), Joe Dyson (drums) and Emilio Modeste (saxophone) — and asked them if they wanted to play music.
"The plan was pretty much to document everything since we were still living in a livestreaming society," he said during a recent break from touring with the Trey Anastasio Band and his own quartet. "So we got together and rehearsed some music and I began recording and filming the rehearsals, and sort of like workshopping the music. I put it on my Patreon and got a pretty good response."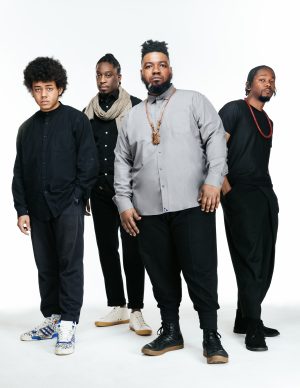 After some gigs, Douglas brought the band to Firehouse 12, a studio in New Haven, Conn., for two days of sessions that yielded "Atalaya."
The song "Wheeping Birch" is illustrative of Douglas' collaborative spirit and knack for capturing moments in his day-to-day life — like the performance at the elementary school — and turning them into song ideas. Douglas found himself recording a live session under weeping birches at the Green-Wood Cemetery in Brooklyn. Despite an infestation of insects — "as soon as we got under those trees, they feasted on us" — it led to a moment of inspiration.
"One day on that particular session, I began sort of just freely composing, and I composed what became 'Wheeping Birch,' melody and all. I recorded it on my phone and charted it out."
Melvis Santa added some arresting vocals to the track after Douglas showed it to her a few days laster at a rehearsal at the National Jazz Museum in Harlem. She also wrote the lyrics.
"Melvis is a brilliant vocalist, musician, percussionist, pianist and she's an all-around super cool human being," Douglas said. "We've been friends for a while and I'd been working with her and performing her music over the last few years. … I love the fact that she's singing it in her native language because there's more life. The song is about freedom and life and liberation and sort of taking care of each other and being there for each other. And she sang, man. And the band really took life around her, and I'm so happy to put that track on the record because it meant a lot to me. It's one of two songs that I'm playing electric bass on, it's got a different vibe.
"I'm very much a champion of this music being culture," continued Douglas, who is on the jazz studies faculty at NYU Steinhardt. "We're very quick to commodify everything and in the process we strip the culture away from things. We could get deeper and deeper into that, but there's been a lot of stripping of cultures from music all around the world and making things academic, and when that happens, you take the life out of it."
The bassist has worked with jazz luminaries such as Pharoah Sanders, Ravi Coltrane, Cyrus Chestnut, David Murray, Louis Hayes and Enrico Rava, so he's been on the receiving end of leadership as well as leading is own group.
"For one, I can only be myself, and I'm still myself within this band even though my name is on it. Even though I'm the captain of this rocketship, I still very much do my job. And in myself, I've been on a couple of recording dates where maybe I should have gotten some credit as a producer but didn't, because that's me: If I'm there, I'm very much likely to invest a lot of myself into the music. There's no other way to get a beneficial result from a session unless you put your all into it, whether it's ideas or suggestions for the way things are recorded.
"Musical direction is the same way. I did have a vision for the music and the sound. Considering I've been involved in a lot of different vibrations and playing a lot of different cultural music, I pull a lot of different influence from every experience I've ever been involved in. I've always been the baby in the room. I've been playing professionally since I've been very young and I've seen a lot, so it's like a long notebook that's in my brain of things that I appreciate, things that I like, things that I don't like, ways to approach certain situations and the fact that every one is different. I have appreciated some of the bandleaders that I've been around that can bring some people together that wouldn't otherwise be around each other and make great music. That being said, the beautiful part of this band is we all like each other, but at the same time everyone is different. It's been a pleasure to get the three of them and myself together on the bandstand and fully give of ourselves. When that happens, you can really go somewhere."
Douglas was invited to work on a blend with Four Letter Word and visited the coffee shop while he was in Chicago during the recent Anastasio tour. He selected the beans for the Ethiopian blend with assistance from Four Letter Word co-founder Ria Neri.
"She has direct connections with the farmers in Ethiopia, which completely blew my mind. I've been fascinated with Ethiopia since I was a teenager for various reasons. I was also rasta and did a lot of the readings and I've always had a dream to go to Addis and Lalibela and Harar. So I love Ethiopian coffee. I have done that Ethiopian coffee ceremony, not the full ceremony, but I've had Ethiopian coffee with the full set-up at Bunna Cafe in Bushwick. I checked out some of [Neri's] coffee and it tasted brilliant. I told her that I'd be willing to do this to be a part of this blend if she would open her heart and teach to me some of the things that she knows about roasting. She enjoyed the music enough so that she would extend her expertise."
Douglas joined the Trey Anastasio Band after the death of founding bassist Tony Markellis. Anastasio is the guitarist and primary vocalist in Phish.
"So I've been a fan of Trey since I first heard his name from my friend Jen Hartswick [Anastasio band's trumpeter]. We went to college together in Hartford. When Jen introduced me to Phish and I began to check out Trey's music, I became an instant fan. I've known Russ [Lawton, TAB drummer] and Ray [Paczowski, keyboardist] for 20 years. I met Natalie [Cressman, trombone] through Jen and I met James [Casey, sax] many years ago through the Curtis Brothers. He was in a band with some mutual friends of mine and we've been friends even since.
"I think when they did the 'Burn it Down' record at the Fox Theater in Oakland I actually got a chance to finally meet Tony on that gig. I was working at the San Francisco Jazz Festival with Ravi Coltrane, and Jen called me up and said, 'I'm over here in Oakland, come hang out and see the show,' so I was like, 'great.' Got an Uber or taxi or whatever, and sat for the soundcheck and actually sat with Tony for about a good 30 minutes and was telling him how much of a fan I was. So when the call came from Trey to actually sub, I was subbing because Tony wasn't well and we were all hoping and praying that he was going to get better. They had some gigs coming and I was learning the music just to keep the ship afloat until Tony got well."
Markellis died in April 2021, and Douglas got the full-time role.
"It's 25 years of music in one band, and you've got the Phish catalog as well," he said. "My brain expanded, but I appreciate the fact that I'm just here to play bass, and it's good people, it's good family, and Cyro Baptista, he's a brilliant percussionist and a new friend of mine. And Trey is a great improviser."
Tickets for the Dezron Douglas Quartet album-release shows on Nov. 25 and Nov. 26 are available on the Smalls website.
Photos by Deneka Peniston