Friday will mark 286 days since Des Rocs last played on stage, fittingly in Detroit Rock City. That's nearly a year he's been away from the grit and grime and ringing ears that he and his fan base, the Filthy Animals, live for. Friday will also mark the release of his new EP, "This Is Our Life," the next step in the New Yorker's swaggering, self-proclaimed mission to make rock new and vibrant again.
While the live shows will have to wait, the material Rocs cooks up in the studio has a bristling energy some artists spend decades trying to bottle; most never get there. How does he do it?
"I've always wanted to make the biggest, craziest, most energetic records of all time," Rocs declares.  
With a law degree — and opening gigs for The Rolling Stones and Muse — under his belt, the ambitious rocker who grew up in Long Island and previously played in the band Secret Weapons recently chatted with us about his new EP and his unique journey so far.
Do you consider "This Is Your Life" a collection of the latest singles you've been working on, or is there some common ground between them, like on a full album?
There's always common ground in my EPs. We might release a lot of the songs as singles in the run-up to all of them existing together, but they're all tied together by certain themes. … This one is uniquely focused on introspection and deals with a lot of personal struggles.
How has not being able to play for people affected you?
Well, I think it's had a tremendous impact on my identity. You just kind of have this certain perception of yourself as an artist and a performer, and when you suck the majority of that out of someone, it can lead to a lot of confusion and a sense of loss of purpose. I've been performing since I was a little kid.
Do you feel that the success you've had has come quickly or has it been more of a slow build?
It seems quick on paper because Des Rocs is two years old, but it's really been a lifetime's worth of work and struggle and hard lessons learned that led to these moments and opportunities. If this happened when I was 14, I wouldn't have been ready, I probably would have fallen to pieces.

You're a rock guy obviously, so how did you end up covering Megan Thee Stallion's "Sex Talk?
I'm just completely influenced by different genres of music and I'm always looking to put my own spin on anything. She's just dope and the song is dope, and she's one of many artists that I'm influenced by.
What are some of the most memorable shows that you've played?
I think there are a couple that come to my mind. One of my first shows as Des Rocs was at Bowery Electric [in Manhattan] and it was packed. And I only had four songs, and I played 16 minutes. One show in Denmark opening for Muse, I will always remember the really warm reception we got when such a small fragment of the crowd was there to see us.
How did you get picked to open for the Stones in Philadelphia on their stadium tour last year?
I'm told that somebody heard the music on Spotify and really liked it, and someone from their camp came to a show and decided to ask me to open for them.
What about Muse?
It was a similar thing, where we had the music heard and got offered the slot. That's a band I grew up worshipping.
'It was an incredible high that I will spend the rest of my life chasing, and I won't be satisfied until that is my headline show'

Des Rocs on opening for the Rolling Stones
Sometimes those gigs end up being a double-edged sword because the place is half-empty or the audience isn't interested in the opening act. How did it go for you?
It was awesome. I went out there and played it like it was my show. I was able to rope in tens of thousands of people.
What did you learn from those shows?
A ton. I think playing a show like that is an incredible high that I will spend the rest of my life chasing, and I won't be satisfied until that is my headline show. And when you're seeing bands like that and playing hit after hit, it takes time to get that kind of setlist.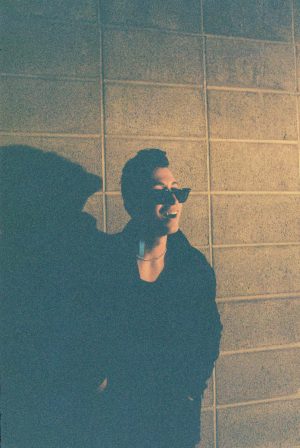 What was your perception of what the New York rock scene was before you jumped in?
Yeah, like I was so excited to one day move to Manhattan or Brooklyn and live and breathe the scene. And when I got there, it was long, long gone. I think what I found was a lot of synth pop, a lot of homogenous music being made, a lot of people playing it safe to fit in as opposed to what I thought it would be. I never really fit into any scene. I've always kind of been this odd man out.
Who are the Filthy Animals?
The Filthy Animals are an incredibly special group of people across the world who love music, love each other and are a resilient bunch, especially in 2020.
How did they start?
As far as the name, I started calling people Filthy Animals on Instagram and people liked it. They started coming together and meeting after e shows, and it kind of grew 1,000 percent.
Lead photo by Rory Barnes