For more than 20 years, Northeastern Pennsylvania-based singer, songwriter and guitarist Charles Havira has been a staple on the regional music scene, releasing albums under his own name and with the band Freight Train as well as collaborating with some of the most in-demand players in the area. In January, he released the 6-song EP "Actual," his first album since the 2012 live set "Dulcet" and his first studio effort since a 2008 self-titled affair.
We recently chatted with Charles about his songwriting process, the tunes on "Actual" and collaborating with longtime musical friends.
You come right out of the gate with a pretty rocking song, "The Way I Want To Paint." Were you looking to set the tone and grab the listener's attention?
Right. The funny thing about it, that song, going into the studio, I thought that would be the easiest one. And it ended up being the last song we did, but I thought it would be the first.
Going into it, I definitely wanted something to lead into the next song ("Open My Eyes"). Because there's a nice tune that we out together. We didn't know what was going to happen in these sessions that we did at Dylan's (Skursky) house.
We only played them a couple times. There could be a first take in there, but I'd have to do some research. But there was minimal playing, but we did some overdubbing.
These seem like these are very personal songs, and the album cover seems to tie into that.
That photo kind of spoke to me. I'm terrible with photographs. I looked at all of them, and it just talked to me, the hand coming out and reaching at me, which was actually my hand, but when I looked at it, it seemed like someone was coming up and grabbed me. Of all the photos, that one grabbed me.
Do you think the image relates to the music?
I believe it does. I've listened to the tracks for a while. Eric (Ritter) did an amazing job. I'm still hearing things that he's done. It definitely is personal.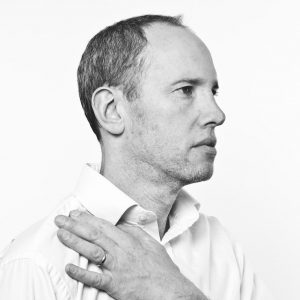 On this record, you played with a core of Justin Mazer (guitar), Dylan Skursky (bass), A.J. Jump (drums), Nick Driscoll (sax/piano/keys), Karen Ritter (vocals) and Matt Hiller (mandolin). Why this particular group of musicians this time?
Timing. And we had been playing together. So it was something current. Something needed to be done, it was there. So I think we all were interested in doing it.
It's your name on the album, but these are people you've been working with for quite some time. Are you open to their ideas during the process of making an album?
Most definitely, most definitely. Sometimes that's where it all happens. It's kind of tough with my approach or the approach that happened, where it's a roll of the dice because you can go in there and you just might not have it that evening. There were some occasions where we did struggle, but then we went back to the basic approach on some of the things, and they really did work out perfectly.
There were two little touches where Karen came in, even if she came in in that one spot where she just says "won't you let me," (on "Show Me The Way") it would've been enough. Just hearing her do that, not knowing she was going to do that, made that session complete, that little part she played was so massive.

When did you release your first recording?
It might have been, and I think I have a recording of it, at WVIA with George Graham and Freight Train.
When was that?
Maybe '92.
How has your process changed since then?
With what we had recorded at Dylan's place, I thought we accomplished a lot, and our approach was initially something raw where we wanted to keep it minimal, almost first-take (laughs). But that didn't happen, but the approach was still there: Let's capture this as live as possible. Which we did.
But the approach was molding on this one. Whereas the last one was a live recording, so it was what it was.
And the two before that, I've had a lot of musicians on each, maybe 14 or something, and there was more of a structure, but still I'd say my approach is still the same going in there. Some people go in there knowing exactly what they want and what they're going to do and it comes out. I think I have an idea and sometimes it plays out musically and sometimes it doesn't. I think I still use that studio time for inspiration. Not too much has changed, but I think I'm hearing things; I'm trying to be more kike the sound engineer, like Eric Ritter or Bret Alexander.
Photos by Jason Riedmiller
First video by Keith Litzenberger. Second video by Dustin Switzer.