When Carl Palmer was plotting his current tour, which kicks off tonight in New York City, it was not intended as a tribute to keyboardist Keith Emerson. In fact, the drummer was in talks with his longtime Emerson Lake & Palmer bandmate about having him join him for a concert or two.
Those plans, of course, were dashed in March when Emerson was found dead of a self-inflicted gunshot wound. Palmer, who along with vocalist/bassist Greg Lake founded the iconic prog trio with Emerson in 1970, will now use the tour, dubbed Carl Palmer's ELP Legacy – Remembering Keith and the Music of Emerson Lake & Palmer – as a tribute to his fallen comrade. There will also be a special tribute concert in Miami on June 24, featuring guests Steve Hackett and Mark Stein.
Palmer, who continues to play in a trio but with different instrumentation than ELP, chatted with us from his home in London about the upcoming shows, the intention behind the formation of ELP, the Rock and Roll Hall of Fame, his unique visual art and his other famous band, Asia, including an update on ailing bandmate John Wetton.
Carl Palmer's ELP Legacy – Remembering Keith and the Music of Emerson Lake & Palmer will make stops at B.B. King's in New York (June 2), the Sellersville Theatre in Sellersville, Pa., (June 3), World Café Live in Wilmington, Del. (June 6) and Penn's Peak in Jim Thorpe, Pa. (June 9). For complete tour dates visit http://www.carlpalmer.com/.
Why did you decide to do ELP music without vocals or keyboards?
To tell you the truth, it seemed pointless to try and copy Emerson Lake & Palmer. It seemed logical to try to bring the music into a new sort of fresh genre by using guitars, because there's a lot of guitar virtuosos around, as we all know there are probably more virtuoso guitar players than keyboard players; it didn't used to be that way in the old days when ELP got started. To redo it, I wanted to stay close to the music, I wanted to carry on performing Emerson Lake & Palmer music along with classical adaptations, which I have done on various pieces, my new live album that I'll be selling at concerts has versions of classical pieces.
So I've carried on the trend, but to have used keyboards just didn't feel right to me, because I've done that and played with one of the best keyboard players in the world, I couldn't really hear anyone else singing the songs, so I thought the songs and the music are so strong and there's so much instrumental music with ELP, and so many classical adaptations, which didn't have vocals to start off with, that it seemed a fresh and vibrant way to go. For me, it seemed like a natural progression to use guitar and see if we could add a different excitement and bring it to a different demographic and show the music in a different way. For me, it was sort of natural, really. It started in 2001 and I've played all over the world with a trio.
Have you found that playing in this format with a guitar has brought out a different edge in the music?
It's a harder edge, there's more metal in there, it's almost like a prog rock instrumental metal band. Obviously there are things missing as well. You can't get as many harmonies going on the lead guitar, but the bass player, Simon Fitzpatrick, also plays the Stick, which is a 12-string instrument, which has a lot of different sounds, like synthesizer sounds, so we can actually duplicate, when we want to…Let's say for example, we play the track "Jerusalem," the hymn, that has a great church-y organ type sound, so I've got sounds that I can get from the guitars, from the Stick, which can duplicate what we've had before if we want to. So I don't really miss out. Obviously the vocal line, I'll have the lyrical line sort of being played, but it won't be a vocal, but I find it to be kind of an original way of doing it, and as I say, if you've got great players, you can pull it off, and I've got two very fine musicians.
Tell us about the members of the band and where you found them.
Paul Bielatowicz on lead guitar has been with me approximately 10 years, and I would say his playing has obviously developed. He's dedicated to the cause of playing classical adaptations and keyboard parts on the guitar, which is a speciality within itself. I discovered him via one of the many guitar academies that we have here in London, there are many specialized schools just for lead guitar, and he cropped up in a school down in Surrey and I was tipped off about him.
Simon Fitzpatrick on the bass and Stick, he plays a 6-string bass, I heard about him via the Guitar Institute here in the center of London Acton. Basically, when you want musicians of this caliber, it's almost better to call the academies or institutes and ask them who they've got. It's a bit like going to Berklee or Julliard, it's our equivalent here in Europe.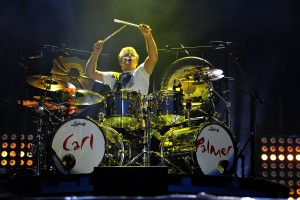 How did you change your setlist when you decided to make this tour a tribute to Keith?
It was kind of difficult, but a lot of the music I had played on previous tours, as I say my band's been going for quite a while. I've done a couple of things, I've put an album together, which is a dedication to Keith, which is "Carl Palmer's ELP Legacy Live In The USA." It has tracks on there by Leonard Bernstein like "America," for example, which is very important because that was a piece that Keith played when he was with The Nice. I've included the full-length version of "Tarkus" on the album. But the stage set, I've changed it round again just to give it as much variety as possible.
The breakdown goes something like this: I play a piece called "Peter Gunn" by Henry Mancini, that was a jamming piece for ELP when we got to the studio to get monitor balances and tune the instruments to each other, so that's kind of an important piece. There's a great original piece by ELP called "Welcome Back My Friends To The Show That Never Ends," I'm playing that, that's from various albums, the live album when we had the orchestra. There's also the first classical piece that we played together which was by Bela Bartok and was on the first album, I've since recorded it again, I think it's on my first "Working Live: Vol. 1" album, it's called "Barbarian."  There's another original piece called "Bitch's Crystal," which is kind of a jazz waltz that features Simon Fitzpatrick on the Stick, so we get all Keith's synthesizer sounds happening on that. That was also a vocal [song], but he also plays the vocal top line. "Jerusalem," which was a song that was sung in the church and was Keith's idea for us to record as ELP. It did get banned by the BBC, and we released it anyway as a single in true ELP form, and I've actually got a choir singing with me on my dedication show to Keith, which is the 24th of June, at Olympia Theater in Miami. There will be Mark Stein from Vanilla Fudge who is going to be singing a track called "Knife Edge" which was on the first ELP album, as well as "Welcome Back My Friends To The Show That Never Ends." He's a great singer and Vanilla Fudge is one of my favorite bands, and Keith is a fan of Mark Stein along with Jon Lord, they both really enjoyed his Hammond playing.
Then we're doing a song called "21st Century Schizoid Man," which is the very first piece ELP actually played together on the first day we met in the rehearsal room, the reason for that being is I think Keith knew it vaguely, I wasn't too sure, and obviously Greg was very familiar with it coming from King Crimson. There's a couple of other pieces there by Aaron Copland who was one of our favorite composers. We've got a piece from the "Rodeo" suite called "Hoedown" and the No. 1 single that ELP had, "Fanfare For The Common Man," that's also in there.  There's a piece called "Pictures At An Exhibition" which is the main dedication to Keith, as this was a piece of music that both of us really liked, and it was our very first live album as a band. So there's about an hour and 55 minutes, and all of it has got a serious connection to Keith.
Keith was actually going to join me on this tour. We spoke about it at the end of last year. He was going to Japan in May and would have been back by now, so we talked about him playing one or two concerts with me this year, for sure he would have played one, we were just waiting for him to come back to finalize the date in June or July as the case may be, but that never happened. I'm still going to make this a dedication to Keith tour, but there will be one particular concert where I've got guests like the Genesis guitarist Steve Hackett, so that should be quite interesting.
Tell me about the artwork you are doing as a tribute to Keith.
Yes, I've also done a painting which is called "Welcome Back My Friends." It's a rather large painting, 60 by 40. That will be a limited edition.
And you're releasing the second edition of your book "Art In Rhythm" on June 1.
What I did was, the first book sold out very quickly, it was 250 copies. I couldn't include everything in that first edition, so what I've done is taken paintings from "The Twist Of The Wrist" and "The Art In Rhythm" but this time I've included a 7-inch vinyl [record] of me talking about the book and how we created this work, and the new piece, which is dedicated to Keith, will be in the book and it will also be impregnated on the vinyl, so the vinyl will be the first art vinyl that's ever been released. It's a bit like a picture disc which you can buy, but this will be a dedicated piece of art specifically to put on the vinyl, and that will be in the book, and I sign them and stuff. We're very, very pleased about that because I give X amount from the book sales – and all the charities are listed in the book – to various cancer charities, child abuse charities and things, and most of the people that have bought a canvas, their names are in the book, they're sort of part of a big family helping these various charities across the country. It was a big success the first time out, we only did 250 of them, so I thought instead of doing the same thing, I would update the book, so the second 250 will be different, especially considering what's happened with Keith.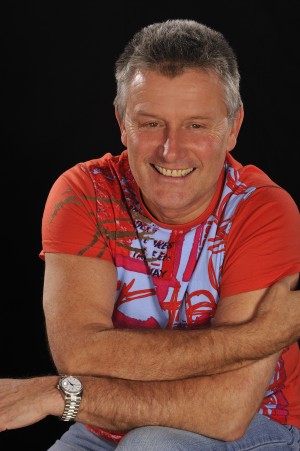 How did you get interested in visual art?
I started in '73 with the idea of taping light bulbs to my drum sticks with a cable going down to the floor to a battery. In the book, there is the very first picture I had taken in 1973 of me trying to develop this art. Obviously computers and things weren't happing on a general and commercial basis, so I really couldn't take it further like I can now. Obviously having digital cameras and an array of various shutter speeds, when you feed that back into a computer with various color channels you can come up with some interesting ideas. It takes about seven hours to get a real sort of painting as it were, a real piece of artwork with light. Sometimes it won't happen, but if you get the shutter speeds right, there's usually two handheld cameras set at different shutter speeds. It really depends on how lucky you are. It really still is a bit trial and error even though we've refined it drastically over the last three and half or four years, there's still a lot of research and development going on. But it's a true art form, and it's a way of capturing not just light, but the shadows and reflections from the various surfaces around me. For example, the gongs I use are not the dark brown gongs, they're kind of chrome, so a lot of light reflection comes back to me. The drums are stainless steel so there's a lot of reflection that comes back up, and trying to capture this movement of light and the reflective surfaces and the various arcs of light that get formed through the shadows of things has been quite interesting. Obviously it's only technology today that allows us to do it.
For more information on Carl Palmer's art, visit carlpalmerart.com.
When was the last time you talked with Keith?
I spoke with Keith about three weeks before the terrible sort of episode that he went through. We had exchanged emails, I think possibly in the last week, just saying have a good tour and I'll see you when you get back. I was disappearing out of the country, I was going over to Cyprus or somewhere like that, and he basically was promoting his band on YouTube. He was talking about who was in the band and what they were going to play. I was just basically waiting for him to get his Japanese thing out of the way, and I was sending him dates because my tour hadn't been completely booked by then. I was keeping it open for him to choose. I spoke to him about three and a half weeks before he died and probably emailed in the last 10 days, something like that.
Did you think…
I had no inclination at all that he was as ill as he was. I knew that he had problems with his hands, we knew that, we took all of that into consideration. That's why he was working with a guitar player to share various musical lines so he didn't have so much work to do and tire his hands. The problem has been there for many, many, many years. The reason why I ended ELP in 2010 at the High Voltage festival is because we weren't playing at the standard that we should have been, and a lot of the music that night had to be put on a sequencer because we couldn't play it all at the same time like we used to play it, and I know that Keith had difficulties then. But obviously things had gotten worse, and there were other considerations as well, things that have come into play which are probably not correct for me to mention, but he had a lot of other problems which nobody really knew about which were kept a secret, really.
Is there an opportunity for the general public to learn something from his unfortunate death?
I think when you deal with any form of depression or any form of alcoholism – both of these things are definitely connected – one has to be extremely alert and aware if you have any family members who are suffering, because what happens with alcoholics is they hide things, and with people who are depressed you never really know the depths of the depression. So this is a toxic mix, and these things can turn people around to such a degree where they will do things that they obviously would never do if they were in a controlled environment, and that's exactly what happened to Keith. Even his girlfriend, his partner for 15 years or whatever, wasn't aware of the severity of what was happening.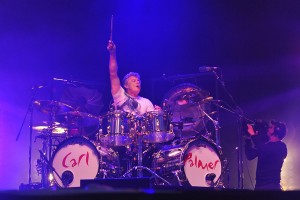 What was the initial goal of ELP when the three of you got together?
To tell you the truth, we were all kind of influenced by what went on in America with the jazz and the blues. We were heavily influenced by classical music here in Europe, what's played on the radio, what's played in schools and the opportunities to play classical music, which is a very European/English outlook. So for us it was a case of we will have to be 100 percent real and 100 percent honest to ourselves. We're not going to be a regular rock band, we will play the occasional little blues section or jazz section, but really we're kind of classical based or folk based. And I think the object was to be as true to our roots as possible, hence Greg Lake having a choirboy type of voice; hence no real guitars being played in the band, there was the odd lead on the electric guitar by Greg Lake, but when he did play guitar it was in the folk sort of idiom, acoustic guitar – "Lucky Man," "Still, You Turn Me On," "From The Beginning," that kind of thing – it was all completely different, really. People called us a prog rock band, but that's ironic because the biggest hits we had were folk songs! We did some big prog pieces like "Tarkus," like "Pictures At An Exhibition," which turned into a prog piece even though it started off as a classical piece by Mussorgsky. We were extremely eclectic.
Did you consider there to be a kinship with bands like Yes, Genesis and King Crimson, or was it more of a rivalry?
To be honest with you, the bands that you mentioned ended up being a lot bigger than ELP anyway. ELP only ever did what it wanted to do, and if we sounded pompous, or if we sounded out of order, if we spent what was considered at the time too much money on the show, on the set, on the way we presented the music, we really didn't care. If you think about the criticism that ELP had, the extravaganzas that we had, none of that is relevant today because everyone from the Rolling Stones to UB40 to, I don't know, to Bono have gone past us and present much bigger stuff than we ever did. And as far as the music is concerned, we were kind of on our own. We were keyboard-driven, there were no guitars, we weren't super commercial except for the folk songs, we weren't out-and-out rock, so we couldn't compete and we couldn't compare ourselves. We were just kind of a unique entity.
The Rock and Roll Hall of Fame has famously overlooked progressive rock for years. Genesis got inducted a few years ago, and so did Rush, but if Yes gets inducted, it will be without Chris Squire, who passed away last year, and if ELP gets in it will be without Keith. Would a Hall of Fame induction for ELP be bittersweet at this point?
The Rock and Roll Hall of Fame really means very little to me. A lot of promoters will tell you, "Ooh, if you're in the Rock and Roll Hall of Fame more people will come along to see you and you'll mean more," but honestly I don't see how it works when there's four or five people sitting behind a desk suddenly think that now you should have a right to be in the Rock and Roll Hall of Fame. What about all the fans and all the records and all the people that we've played to and supported the music? I'm already in their Rock and Roll Hall of Fame. I don't need to be in the Rock and Roll Hall of Fame for a committee for four to five people who think it's now our time. That means nothing to me, to tell you the truth. I can understand the prestige of it, but the prestige for me, and for the band, would have been the fact that we've had all those fans for all those years and still have fans buying our back catalog and still coming to see me, and they'd be coming to see Keith and Greg if they were working. So for me it's not super important. It seems to mean a lot in America, but it doesn't mean an awful lot to me. I say to my manager in America, I doubt if I'd even go along, and he goes through the wall, he says you gotta be there, because he's an American. I understand that. But to tell you the truth, we're already in the Rock and Roll Hall of Fame in the big picture, and that's because of the fans. You don't sell 40 million-plus records, which is not a lot today, I must agree, but when we did sell, it was a hell of a lot, and it set a lot of standards, so I've got enough sort of certificates and trophies in my music room. That one wouldn't really mean that much to me. If we did get voted in, that's very nice of them, but it's not really that important because it's kind of late in the day to be recognized when you consider what we've done. So it's not important.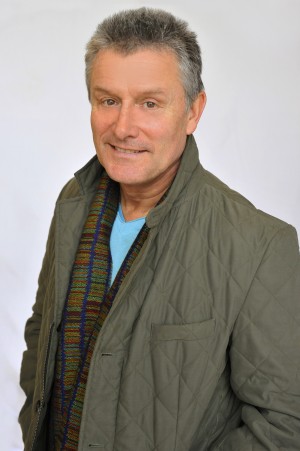 You're playing style seems very physically demanding. What do you do to stay in shape musically and physically?
I'm sitting here with my running shoes on, I'll be going running later. I run and swim. I'm going on holiday the weekend in Austria, and I'll be hiking four to five hours a day if the weather cooperates. I'm also a vegan, coming into four years now, and I found that that helps. I drink very little, I've never smoked. I've had a few health issues. I had a stent and things, so I've not gotten away with everything, I've had both hands operated on for carpal tunnel. I've been lucky. I had E. coli which was the worst. I've had a few things that have come and I've managed to beat them, and I've been very, very keen on working. I've got a strong work ethic. I'm from the north of England. I still consider myself like when I began, a working musician. I love to play. And as long as I want to play like I play, I need to stay fit. I'm 66 now, and I'll carry on playing as long as I can play like I am. I think I'm improving with my feet. If I can't improve, as long as I can sustain this standard I'll carry on. But if I don't, and it starts to drop, I'll disappear and you won't even hear of me. I'll just go.
Take me back to the 1980s and the formation of Asia. That was certainly a departure for you, John Wetton, Steve Howe and Geoff Downes to take progressive musicians in a much more mainstream direction.
Basically Asia got together very simply. It was put together by David Geffen. We realized there was a crest of a wave under our feet with MTV and VH1, and we wanted to be involved with that video-making technology and be on the television. We all came from prog bands, so it was difficult to get 10-minute pieces of music played on drive time, radio had been taken over by the big corporates, they only wanted like 20-second introductions, they wanted the second line of every chorus to rhyme, and we went along with it. We actually managed to beat the system, we had a huge hit and a No. 1 album and single for several weeks and sold like over 4 million. So we were super, super happy, and it lasted about three years, and it was almost like a one-hit wonder situation, but the second album sold very well, and that broke up because John Wetton had problems with alcohol, which has been well-documented over the years. And the band got back together about eight, nine years ago, and we've been playing every year right up until last year when John came down with his cancer last May, nothing has happened since then. He's trying to fight his way since that.
How is John doing?
I spoke to John at the beginning of the week. John, you have to understand, I've known for about 43, 44 years, so long-time friend. It's not good. It's not good at all. The album, the Asia album is on the shelf. I actually couldn't make the album because the amount of work and things that have come in, especially with what happened with Keith and the amount of dedication shows that I said I would do. But John isn't well enough to sing anyway, and the songs aren't finished. We're just all praying that John comes through.