Photos and text by Andy Jillson
Death metal icons Cannibal Corpse recently kicked off its long-awaited headlining tour of the states and stopped at Baltimore Soundstage Feb. 20. Of course, I had to check them out. I couldn't help myself.
One word basically sums up this show…brutal. Cannibal Corpse is a must-see live act for fans of extreme hard rock and heavy metal. The band sold out Soundstage and is selling out other dates as well.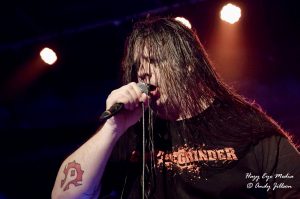 Cannibal Corpse is touring in support of its critically lauded "Violence Unimagined" full-length, released last spring on Metal Blade Records. The tour is part of the 40th anniversary of the label, and it also stopped locally at Brooklyn Steel on Feb. 24.
I have attended hundreds of metal shows over the years, but few death metal shows. I'm generally not a fan of this particular genre of heavy metal; however, Cannibal Corpse hammer-smashed my face and seduced my ears with a type of heavy metal music that transcends genres.
This band is a total package. Disturbing lyrics, macabre imagery, haunting vocals, and of course the most intense death metal. They are referred to as icons for good reason.
Baltimore Soundstage was sold out and packed with rabid metal fans. The crowd lost their minds when Cannibal Corpse finally hit the stage. The entire venue erupted in aggressive musical ecstasy. Crowd-surfers, moshers, slam-dancers and headbangers rejoiced. I spent a good amount of my time in the photo pit avoiding being pummeled by the crowd.
Again, this is a must-see tour for fans of extreme forms of hard rock and heavy metal music. Support for Cannibal Corpse is being provided by labelmates Whitechapel and Revocation, as well as Shadow Of Intent. All great metal acts and worth checking out too.
All images copyright and courtesy of Andy Jillson/Hazy Eye Media