Review and photos by Sam Watson
It might have been below freezing on the streets of Wilkes Barre Friday night but inside the walls of the Kirby center, local boys of the bluegrass-esque outfit Cabinet blanketed fans with a heater of a show. So much so, steam could be seen rising from the roof of the Kirby, aptly nicknamed "the bluegrass thunder-dome".
After an intimate set from show opener Holly Bowling, who treated fans to her unique rendition of classic Grateful Dead and Phish songs on solo piano, the boys took the main stage just before 9, donning their finest attire. Smiling ear to ear, the looks on their faces were reminiscent of kids opening gifts on Christmas morning: priceless. It's amazing to look back at see how far they've come in just a short time. From the sold-out Jazz Cafe shows for years ago, the sold-out Chandelier Lobby, to now taking the main stage of the Kirby.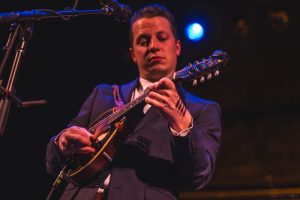 Cabinet had been touring the fall and winter months far and wide, and so the set started the only way it could have, with the welcoming tune "Home Now." From then on, the group jammed through both new and old tunes, a nod to where they got their roots to where the future will take them. After an electrifying jam-filled "Heavy Rain" into "Treesap" the bluegrass collective welcomed Bowling back to the stage to sit in with them on two fan favorites, a jam-filled "The Dove" and feel-good "Tower" breathing new life to both with the addition of her piano keys.
The band pressed on without a set break, feeding off each other's energy through every song, whether it was the screaming of Todd Kopec's fiddle on "Eleanor," Mickey Coviello's guitar's fuzz on "Bottom of the Sea," Pappy and JP Biondo's picking on "Mysterio" or the thunder of the back line's Jami Novak and Josh Karis on drums and Dylan Skursky on bass.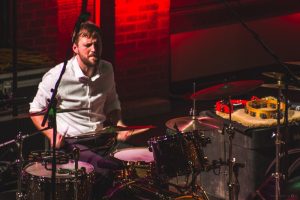 After the two-hour set came to a close, the group slowly filtered back for the two-song encore, first debuting a new tune named "Cool River" before segueing into "Oxygen." The show as a whole left me speechless and I'm still trying to find the words. I guess the best way to describe it is from a quote by Lester Bangs made famous by Phillip Seymour Hoffman's character in "Almost Famous." "Music…you know, true music – not just rock n roll- it chooses you. It lives in your car, or alone listening to your headphones, you know, with the vast scenic bridges and angelic choirs in your brain. It's a place apart from the vast, benign lap of America."
Like Dorothy would say, "There's no place like home"… there's no place like a Cabinet show.