Photos by Keith Perks
Initially borne of angst and disilussion, '90s grunge, with 30 years in the rearview mirror, is now classic rock. Seeing bands like Bush and Candlebox in the '90s might have felt like a small act of rebellion, despite the bands' mainstream success. Now it's an exercise in nostalgia, with crowds packing venues like Hammerstein Ballroom in New York singing along to the anthems of their formative years.
A rebirth in interest in '90s aesthetics — Gen Z'ers watching "Friends" and wearing baggy clothing, for example — has been widely noted, but the love for the music of the era seems to be more of a continuation than a comeback; the majority of the folks at Hammerstein on Feb. 18 appeared to have been old enough to catch the the alt-rock wave the first time around.
The differences between the performances of UK's Bush and Seattle's Candlebox, as well, were emblematic of the depth of the '90s alt scene, before "the algorithm," when everyone from Cake to Tool could coexist in CD collections, on MTV and on the radio. Having a grand total of two original members between the two acts didn't deter ticket sales — the songs were the stars, and both frontmen delivered them in very different ways: Bush's Gavin Rossdale a preening MTV idol and Kevin Martin a Pacific Northwest rocker.
Bush was the headliner in name, set length and performance time, but Candlebox, in the main support role, was worthy of top billing. The band took the stage in a cool tribute to the Seattle scene, a piped-in intro of a radio being tuned from Soundgarden to Alice In Chains to Screaming Trees to Nirvana. 
The band blasted into "Arrow" before galloping into "Simple Lessons," the swaggering, brooding rocker that opens the band's remarkable sophomore album, 1995's "Lucy." It was immediately clear that Martin is still a powerhouse vocalist who has lost nothing from his strength or range on songs he recorded nearly 30 years ago. 
"Change," syncopated and moody, was brilliantly placed next. You could almost feel the gloomy Seattle mist as Martin sang, "As I stand here / I ponder greater things" on the song from their 1993 debut. He put his arm around his long-time guitarist, a Philadelphia musician originally from Pittston, Pa., and announced, "Brothers and sisters, this is Brian Quinn," before Quinn took a solo. It was a sweet moment in a set packed with highlights.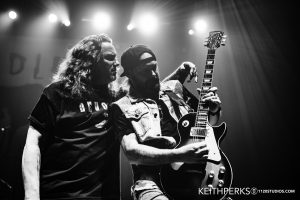 "Let Me Down Easy," which Martin co-wrote with Chris Cornell's brother Pete, from the band's most recent album, "Wolves," was dedicated to Motorhead's Lemmy Kilmister. Martin strummed an acoustic guitar and Island Styles switched from guitar to piano for "Riptide," which the singer prefaced by talking about his foundation of the same name.   
Candlebox ended strong, with a triple threat of hits from their four-times-platinum self-titled first album.
"I'm not gonna get political on ya. But this song is about God," Martin said before the beautiful ballad "Cover Me." He dedicated "Far Behind" to Andrew Wood of Seattle's Mother Love Bone and simply said "This one's for you" before the bone-crushing set-ending "You."
If there is a Big Four of grunge, it's Nirvana, Pearl Jam, Soundgarden and Alice In Chains. Candlebox, however, deserves a seat somewhere at the table, with a catalog of arena-worthy anthems and a bluesy and rhythmic sound that sets it apart from its peers. 
Candlebox's simple stage set — a banner for the "Wolves" album — was taken down to make way for Bush. Ominous tones and a lone musician, drummer Nik Hughes pounding his tom-toms, built the anticipation for Rossdale's entrance. They opened with "Identity," from their latest record, 2022's "The Art of Survival." Listeners who have not been keeping up with Bush might have been surprised by the early-2000s nu metal-meets-industrial sound of the track. "Who is the angel? Who is the whore," sang Rossdale as drummer Hughes made windmill moves with his arms. 
If casual fans were confused, they were put on the straight and narrow when Bush ripped into the familiar riffs of "Machinehead." Rossdale's emotive rasp was in fine form and there was a feeling of catharsis in the room as he sang the song from the band's six-times- platinum 1994 debut, "Sixteen Stone."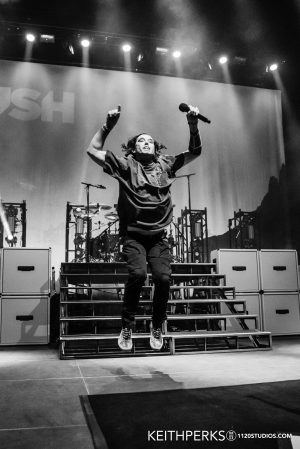 Rossdale removed his overshirt, revealing a loose, white T-shirt with open sides, and engaged in some interesting dance moves for "Blood River," another newer track, before swinging back to the familiar "The Chemicals Between Us." In retrospect, you can hear the electronic elements that would go on to become more prominent in Rossdale's music in the sleek song from 1999. "The Sound of Winter," from 2011's "The Sea of Memories" was a strong entry, with melodic guitars and a taut chorus.
"The Art of Survival" got some more run with "Flowers on a Grave." Rossdale worked his way to both balconies after the first verse and chorus of the techno-flavored song, firing up the crowd and making the show more intimate for those sitting upstairs, before returning to the stage.
A note-perfect "Everything Zen," from "Sixteen Stone," ratcheted up the energy that Rossdale had brought to the cheap seats a few minutes earlier.  
Rossdale was left alone on stage for "1,000 Years," the last song on "The Art of Survival," which was the most enjoyable newer song of Bush's set. "I wish we could sleep for 1,000 years/ I love you best when there are no fears," he sang over his simple electric guitar and a drum track. 
Bush closed their main set with "Little Things," another beloved rocker from "Sixteen Stone," angst and tension and release colliding in all its grungy glory. 
The encore began with the industrial title track from "The Kingdom" before the inevitable hit ballad "Glycerine," Rossdale again performing alone. Corey Britz's slinky bass line brought in the finale, "Comedown." Bush teased out the dramatic intro with some shoegazey riffs before dropping into the doomy tune. 
Bush has released nine albums. Only three are from the '90s, but it's natural to want them to still be the band we saw on MTV. Viewed through that lens, it was a bit jarring to see some of the trappings of arena rock excess that alternative bands had railed against as parts of Bush's presentation, like giant, stylized white amps and a catwalk from the drum riser to the stage. Sometimes Rossdale's stage presence came off as cliched rock star puffery or a reach for poignancy just short of his grasp. On the other hand, he is to be commended for not relying entirely on the recognizability of the songs that made him famous, and not only continuing to search for new sounds in the studio but also playing that new material live — something most classic rock bands don't even attempt.
Bush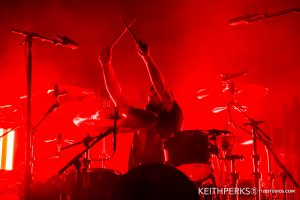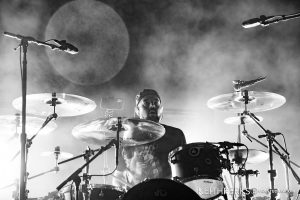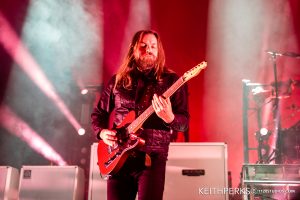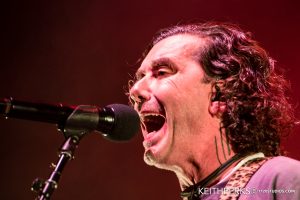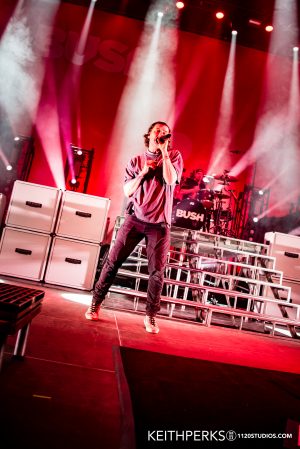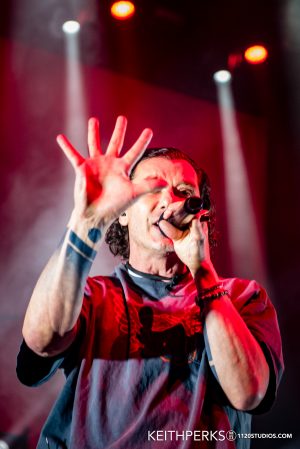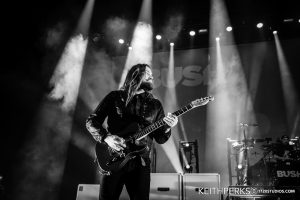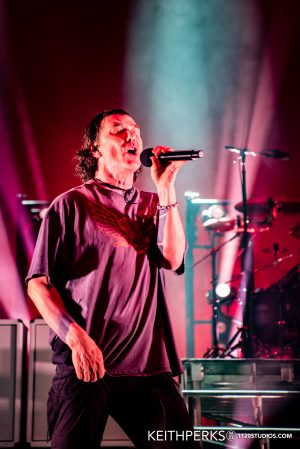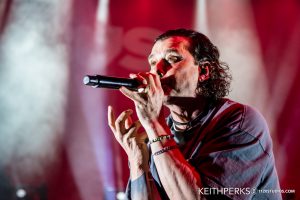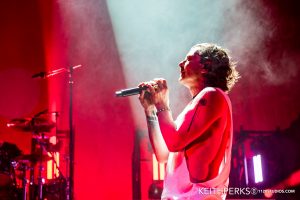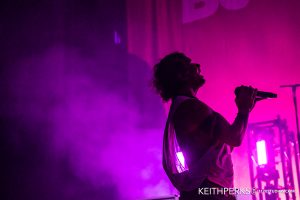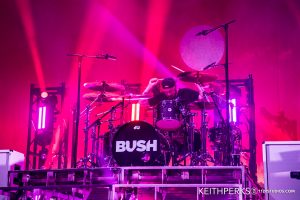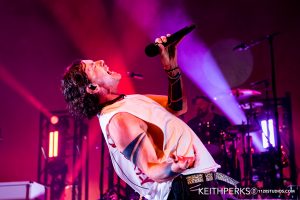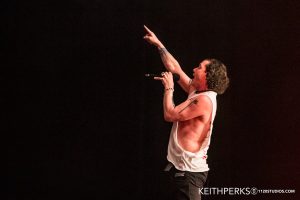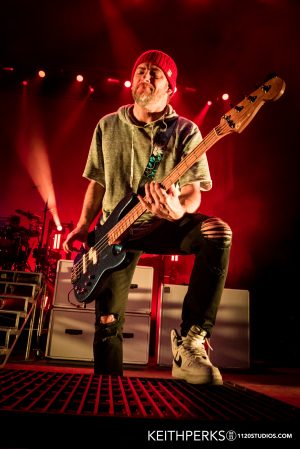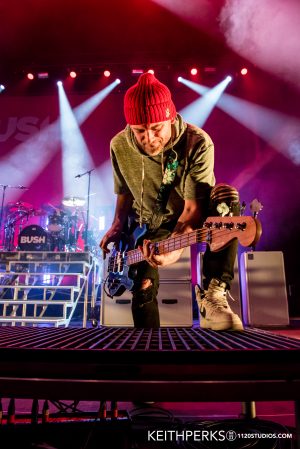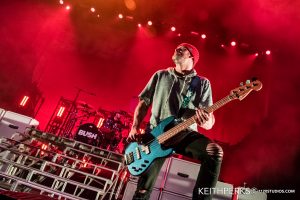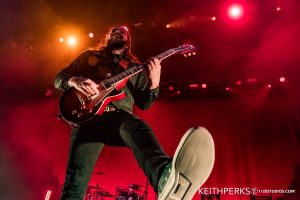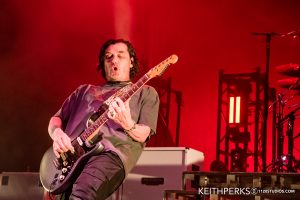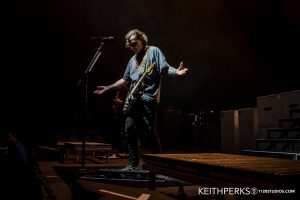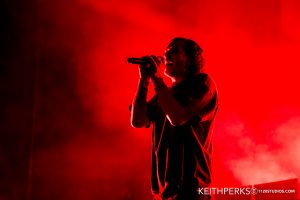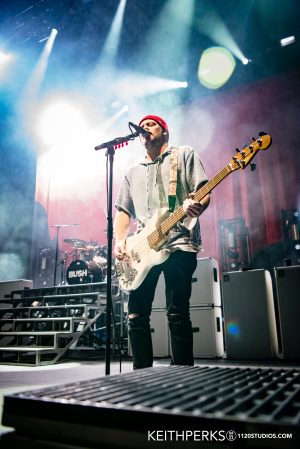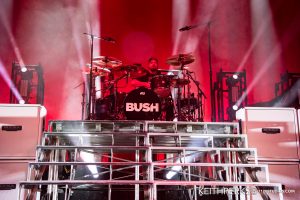 Candlebox