If there was such a thing as Fantasy Bluegrass, you'd be wise to spend your first pick on Billy Strings. Possessing wicked-fast guitar skills, the young Michigan native has what sports prognosticators would call "tremendous upside," having performed at the most important bluegrass festivals in the country despite having only reached his mid-20s. Just last week, it was announced that in March he'll be playing at the venerated Grand Ole Opry.
"I'm just trying to keep it together, basically," Strings — real name: William Aposotol — says in a phone interview. "We have so many gigs that I'm trying to basically make it to all of them."
On Tuesday, Dec. 18, Strings and his band will perform at the FM Kirby Center as part of the Wilkes-Barre, Pa., theater's lobby series. In February, he'll play a string of solo dates supporting the trio I'm With Her (Sara Watkins, Sarah Jarosz and Aoife O'Donovan). In January, he'll begin recording a follow-up to his debut album, "Turmoil & Tinfoil," which debuted at No. 3 on Billboard's Bluegrass chart in 2017.
Here are some highlights from our chat with Strings, in which we touched on his NEPA connections and his somewhat surprising love for heavy metal.
What did you learn from making your first studio album in 2017?
Well, I think that I learned is that maybe it's a good thing to take risks, because I put a couple things on the album where someone would say, "Is this too weird?" or something, and I was like, "Nah man, let's put it on there." It seems like it was the right move. I think I learned that I should just go with my instincts, go with my heart on those kind of ideas.
What do you make of the current popularity of Americana music? 
I think music always does those things. Music comes along, and, you know, it happened in the '60s with the folk revival and the hippies, and instead of rock and roll with electricity, everyone eventually started to enjoy acoustic music again because it was organic and from the heart and you didn't need electricity to do it. I think that happened again when disco sort of died. I think now it might be happening again where people are being turned on to bluegrass: "This is cool stuff, they're playing instruments, really singing, and there's no Auto-Tune, it's just real music." I think music goes in circles and it always comes back to the real stuff.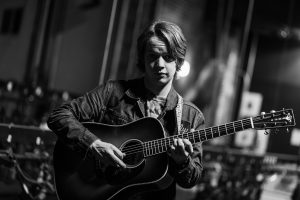 You've played at Telluride, DelFest, Merlefest and other major festivals and performed with some of bluegrass's biggest artists. What are some of the most memorable collaborations or sit-ins you've experienced?
We had Bryan Sutton sit in with us at Del Fest one time, that was really fun. There's a video of that on YouTube. I love his guitar playing. Yeah, I think that definitely sticks out.
What was it like playing in a cave in Pelham, Tenn., earlier this year for the PBS series "Bluegrass Underground"?
It was interesting. It's really fun, the acoustics down there are really neat. They pack up your stuff into a golf cart and drive you down into the earth and you go play a gig down there, so that's pretty cool. It's always 50 or 55 degrees and really humid.
It was just announced that you'll be playing the Grand Ole Opry. What does that mean to you?
Well, it means a lot to me, ya know? A lof the musicians I grew up listening to — Bill Monroe and people like that, Hank Wiliams — everybody you used to see on there. My dad used to probably listen to that show and somehow it's probably how I grew up listening to this kind of music. It's sort of a full-circle thing. It does seem a little different than it used to be. Music's a little different these days, I guess.
How did you initially connect with your manager, Bill Orner, who is from Scranton?
Well, my agent introduced me to Bill, and I really needed a manager, and Bill supports what we're doing, and I said, "Yeah, I mean, we can work together for a while." And now it's been a couple years.
Another Northeastern Pa. connection for you is the band Cabinet. What do you like about working with them?
I love those guys. I think they make great music. They've got a really strong energy. Pappy's a great banjo player. They're super fun to jam with.
I read that you were into hard rock and metal when you were a kid. Are you still into that music?
Yeah, I still listen to some of it. Some of the stuff I listened to when I was 16 years old doesn't turn me on so much anymore, but some of the stuff does. There's a couple of bands I still listen to; one of the bands is called Cryptopsy, they're a death metal band from Canada and I just love them.
Did that type of music influence your playing?
Yeah, totally, absolutely. Dude, it's definitely crossed over. What happened was, when I learned how to play music, I learned by playing bluegrass, but I learned how to perform in a metal band. I learned how to be on stage when I was in a metal band, and that's where I learned how to do whatever we were doing up there — we were head-banging and jumping all over the stage and this and that. So when I came back to bluegrass I think some of that came with me.
What have you been listening to lately?
Les Claypool, nothing but Primus, lots of Primus. And Les Claypool has a band with Sean Lennon called The Claypool Lennon Delirium, I've really been loving that. Lately, I swear every time I'm in the van and I go to drive, I just put on Primus.
Billy Strings will perform Tuesday, Dec. 18 at the FM Kirby Center (71 Public Square, Wilkes-Barre, Pa., 18701). For more information, visit the venue website.
Photos by Jesse Faatz