When Sean Flynn decided to follow a new musical direction, leaving behind the post-hardcore and punk of bands like Those Clever Foxes and Old Charades in favor of Americana, he wasn't about to half ass it.
Inspired by the Bob Dylan lyric "I'll know my song well before I start singing," he did his research. He delved into the American Anthology of Folk Music and became a student of the genre. As he says, he didn't want to be a kid who heard a Fleet Foxes song, went away for a weekend and came back with new material.
Under the name American Buffalo Ghost, Flynn distilled those influences and research into eight new songs, released recently on his debut EP, "The Devil Takes Care Of His Own." It's available online and at upcoming shows, including Saturday, Oct. 7 at The Keys in Scranton.
How did this new musical direction come about?
In all honesty, it was something I really, really wanted to do. I can't tell you how many years I kind of got pigenholed in playing in punk bands, and I loved every second of being in Those Clever Foxes and Old Charades, but this was something that was cultivating in my mind for the better part of three years.
I was like, I need to make a real folk album because it's what I believed in, it's what i know musically, it's what I feel comfortable with, and if I don't do it now I'm going to get completely aggravated with myself.
Where did you record?
At Windmill Agency, where Cabinet do all their stuff. And Eric Ritter produced, recorded and engineered the whole thing, he and I nose to nose at the control board.
Did you know Eric before this project?
No, I had no idea who he was until I kind of started shopping around, and I got in touch with some local musicians, and Chris Kearney from Coal Town Rounders immediately told me about that, and I was a really big fan of the Cabinet records and those guys, and I kept looking at the liner notes of their records and seeing [Windmill's] name. I didn't know it was literally 15 minutes away from my house. Eric and I, we became best friends.
You recently played your first show as American Buffalo Ghost at The Bog in Scranton as part of the Electric City Music Conference. How did that go?
Well, considering that I was basically doing it at 1:15 in the morning after a whole night of partying with my friends and drinking at The Bog, I definitely felt nervous, and I wasn't prepared for the amount of people to hang around and see me.
And I had people come to The Bog to see me, and I was real nervous, but once I kind of got into the first song or two and kind of calmed myself down and got in the groove, I was like, I can do this, and I really want to do this.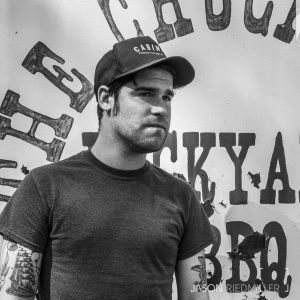 After playing in bands, what are the pros and cons of playing solo?
The cons are just it's all me and I got nothing to hide behind. It's so honest and it's in the moment that I don't have the ability to step back if I blow a note or I'm just not hearing it right and I'm off in the time a little bit. If I mess up, I got nothing, I'm naked.
But at the same time, the pros are that same exact feeling is only going to make me a better musician. I never cared about being a songwriter. I wanted to be really good musician, and the simple fact that if i want to write a whole setlist of songs and two songs in I'm just going to say, "Screw it, I'm going to play a bunch of blues songs or Carter Family songs, I don't have to check with anyone else. I'm just going to do a night of Big Bill Broonzy songs because that's what I'm going to do.
What did you listen to growing up?
My mother saw the Beatles at Shea Stadium and my dad saw the Rolling Stones in the '70s, so my parents are a product of the '60s. I had a lot of Beatles and Stones and Crosby Stills and Nash and Neil Young. I've always been the black sheep in every band I've been in because every band I've been in, the guys listened to pop punk, and I liked it, I dug it, but I knew in the back of my mind I knew that Bob Dylan album speaks to me and I went deeper into it; what's he into? Who's this Woody Guthrie guy? and kept going down that rabbit hole.