For many of us, the only time we've heard the word "quoth" is in Edgar Allan Poe's famous work "The Raven." But there's another artist making some noise with the word, using it as his performing name. Electronic music artist Quoth, a Brooklyn transplant making his home in Northeastern Pa., has deployed an unlikely blend of influences, from goth and New Wave to hip-hop into becoming an important voice in the electronic music scene in the region, not only releasing his own music and sharing it at live shows, but also championing the talents of his comrades whenever he can.
Quoth will release his latest album, "The Jooks," on May 7 and 8. In advance of that occasion, as well as an album release show on May 7 at The Irish Wolf (503 Linden St., Scranton), Quoth chatted with Highway 81 Revisited about his unique journey to NEPA and electronic music, his recording and performance process, the state of the genre in the region and the influence of the late Prince, whom he paid tribute to with an impromptu hour of tunes at The Irish Wolf when the news of his passing was confirmed.
As an added treat, we have an exclusive stream of album track "Eyes Like Irene Dunne," which features area folk musician Katie Kelly. So have a listen, then check out the in-depth interview below.
How did you first become interested in electronic music? What type of music were you exposed to as a kid?
As a kid, I was exposed to many types of music.  Both sides of my family were extremely into music, so I was exposed to everything from old school r&b and soul and early hip-hop, which the latter was all heavily electro-based.  Growing up, I was an '80s kid and a lot of the '80s New Wave music was electronically based so I always had an ear for that.  As I got older, I got exposed to a lot of industrial music and started going to goth/industrial clubs. That's where my love for the music really started to blossom, and all other types of music at the time as well, because of my upbringing. When I started DJ'ing at the same goth/industrial clubs in New York in the early '90s, electronic music really took hold of me, but I had no means to learn how to create my own at the time. Fast forward 20+ years later, I decided that I wanted to contribute to the music I love the most, but at the same time, I wanted to still add in all of the other influences that I loved and was exposed to as well.
What brought you from Brooklyn to NEPA?
In the late '90s, I had a close friend that lived in the Scranton area. I was coming down to visit her almost every weekend, and eventually I fell in love with the area.  On top of that, I was getting weary of the hustle and bustle of NYC, and when she explained to me that jobs were pretty much the same pay with a much lower standard of living coupled with a lower hecticness of life, I was sold on planting my roots here. While I still have a huge amount of love for my hometown and home state, Northeast PA has been pretty much my home away from home, and I love it here.  So many things have happened for me here, so many great opportunities that may not have happened in New York, but don't get it twisted, I'm still a Brooklyn kid at heart, just with less of an accent! (chuckles)
What type of process or method did you use to make your new album?
Umm, the process is pretty much the same for every album.  I start to get ideas for songs in my head – something different I want to try, etc. So I set up some time, get on my laptop, start experimenting with sounds. Each track starts out as a short demo for a time and expands from there – adding, subtracting, layering, getting the vibe right. Next thing you know, multiple tracks are done, and then I process which songs are really good to develop into an album to fit where I am at the time, musically and sometimes even emotionally. A lot of tracks never make an album in the process of making decisions on what the album should be, but I always try to put my best foot forward and put out the best songs I feel people would enjoy, as well as songs I enjoy myself. Usually I go through lapse of time where I don't do anything musically for a little while, and that always seems to be a good thing and an inadvertently good part of the album-making process, because when I am getting back into it, I'm looking at it with fresh eyes and fresh ideas. With "The Jooks" specifically, first off, the process always has to be a progression from the last one, either in a technical aspect and/or a musical aspect. As an artist, I am always growing and expanding into my craft. "The Jooks" finds me more in a place where I feel comfortable with what I'm doing but still pushing the envelope for more. Remaining stagnant in anything goes against what I believe in life, so to push forward is the only other option.
How would you compare the new album to your previous work like "The Alter Egos"?
Like I mentioned before, each album has to have some sort of progression from the last. "The Alter Egos," which was my very first album, shows me at a very awkward position as far as starting to learn, starting to craft my skills. "The Egos" was pretty much a tryout and response to a lot of things that influenced me (but this is very true throughout all of my albums) but very unsure about this new world I was opening in music for myself. Funny enough though, even though it sounds as if I was unsure or insecure about creating music for "The Egos," it actually translated very well. With the albums that succeeded that up to "The Jooks," I became more comfortable in my shoes and worked towards and gained my own specific sound, which I feel is a unique combination of all the music I love, but more specifically goth, industrial, breakbeat, ambient, with splashes of hip-hop here and there. Some albums are more lighthearted, some are darker, and that usually reflects what I'm emotionally going through at the time. But I still try to make sure it translates into an album people will enjoy, and not just a branch of psychotherapy (chuckles). With "The Jooks," this is Quoth at a very comfortable point in my life and music and also more comfortable with my specific sound, while still pushing the envelope in the creative and technical process. On this album, there is more of a span of emotions dealing with happy to dark and everything in between, while still holding together as a cohesive and enjoyable span of music and expression to the listener.
Interview was interrupted when we found out Prince died…
How did you connect with Katie Kelly? Why did you decide to work with her and how would you describe her contribution?
I have always been a huge fan of anything Katie has been involved with, and have so much respect for her as a person and especially as a musician. My wife, Lady Hectic, has a promotion company called Hectic Management and Promotions. She runs a local show called the NEPA Musical Mixer, during which she brings together musicians and bands of different genres to share a stage for one night. Mid-spring last year, I mentioned to her that she should reach out to Katie about playing one. From that sparked a great friendship and a musical kinship that we both cherish. Katie has been an amazing supporter of everything I do, and as a fan of hers, I've been wanting to work with her for a while. When I started working on this album, I reached out to her and asked if she would be willing to collaborate on a track and she was totally down for it. I worked out a quick and basic demo of what I had in mind, sent it to her so she could get an idea. A couple of weeks later, we had her over to the house and spent roughly six hours with my laptop and her guitar laying out the track in FL Studios. Once we had the outline done, she went home and wrote her lyrics and guitar melody. With the help of Mark Wohl and Wide-Eyed Studios, she recorded her vocals and guitar, and then sent me all the files. Once I had mastered everything together, I was blown away. "Eyes Like Irene Dunne" is a beautiful, haunting track that took both of us out of our respective comfort zones of folk and electronica into a melding of the two that I'll never forget.
Are there any other collaborators or guests on the album?
A few, actually. My best friend, and another well-known local electronic musician, The Gary Goblins, is featured on the track "DemiGod." It is a very hard and spacy industrial track, which I absolutely love.  It came out as a perfect melding of our two distinct sounds. We also have a little humorous track before "DemiGod" on the album as well.  Basically, we hang out at GG's house on the weekends from time to time, and we always have these weird, crazy conversations. We decided to record one of these conversations and make it an intro before "DemiGod." Also featured on the album is something that has been heard played as an intro to some of my more recent shows: a small mixed piece done by my friend Styles Clement from THD and Rootwork Collective. I had found out that throughout the years, many people had been pronouncing my name wrong, so as a funny and also educational thing, I asked Styles to make up a humorous take on that situation. That resulted in a track called "It's Quoth, not Kwath." People always seem to get a laugh out of it at shows, so I wanted to include it in the album so everyone could hear it. There is also a track inspired by a near and dear friend by the name of Brenna Alexandera. She is a local painter on the rise, and she will post pictures on Facebook occasionally of her paintings in process. Brenna had posted a painted portrait of her cat, and like it's said, you find inspiration in the oddest places. I did a song based on the painting called "I Think My Name is Seamus, That's What Human Says to My Back," which is also the title of the painting itself.
On the visual side, all album artwork was put together by my wife, Lady Hectic of Hectic Management and Promotions. Photos were contributed by good friends Michael Evancavich and Keith Barbuti, with the Quoth logo done by Zak Zombez.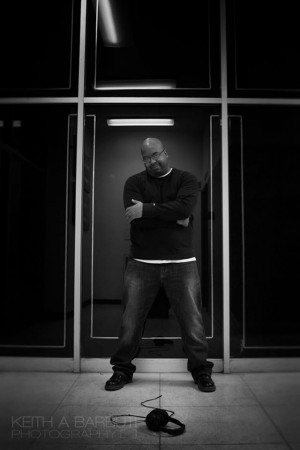 NEPA has not exactly been known for electronic music historically. How would you describe the scene? How is it different from bigger cities and how has your music been received in NEPA?
You're right, but I see that changing slowly but surely. Electronic musicians do exist in this area. There are a good number of electronic acts in the area that are out doing shows – some that come to mind outside of myself are The Gary Goblins, 8-bit Panda Strike, Greenfly, Dr. Epidemic, amongst others. There is indeed a lot of bands around that have an electronic element in their music, so it's definitely becoming more prevalent in the scene. Electronic music may not be as big here as it is in NYC or Philly, but I just feel that's because it hasn't had the opportunity to be exposed as much as it has in those markets. My wife has been really instrumental in trying to get electronic music more exposure in the area, especially with her NEPA Musical Mixer series. She tries really hard to combine an electronic element with the different genres that play together. It allows that particular electronic musician the ability to gain new listeners from fans that come out to see the other bands that play. We've also collaborated on putting on full-blown electronic shows of local artists, at places like The Keys and The Irish Wolf Pub. Jenn Sekelsky (the owner of The Keys) and Peter (owner of the Irish Wolf Pub) separately have been two of our biggest supporters when it comes to this growing part of the local music scene. I was also recognized as a nominee for Electronic Artist of the Year in 2015's Steamtown Music Awards along with some of my close peers in the electronic scene, and performed as part of the Electric City Music Conference. The only thing I would wish more from the scene is more bands and venues taking chances on including electronic musicians in some of their shows they put together. We're all in this together, I feel, and this local music scene is one of the greatest out there, and I'm glad to be part of it, not only as a contributor, but as a fan as well.
How would you describe your live show? What can people expect from the Irish Wolf album release?
My live shows are (as most electronic musicians' live shows are) a lot of button-pushing, a lot of head-nodding, and a lot of concentration. The thing that is really different about a Quoth live show is I essentially do a live remixing of my songs, so in 99.9 percent of the cases, you're not hearing the album version of the song, and each show can sound totally different. It all depends on where I feel like going with the specific song at that time. I always thought, and the people that come out to my shows always felt, that was a really cool element because they could come to multiple shows but still be surprised each time a song they like so much is remixed a little differently than the last time they heard it. Always expect bass, beats, and madness at a Quoth show – there's a reason we have a 600-watt subwoofer in our PA system (chuckles).
As far the release party itself, we have a full night planned from start to finish. It starts at 9:30 and will go till about 1:30 or so. We have two of my most favorite DJ's ever, Perfect Solution from Milford, Pa., and Little.Plastic.Raleigh from Scranton, who will be spinning separate sets throughout the night of some of my biggest musical inspirations. My wife, and fellow electronic artist, Lady Hectic, will be taking on some of my older tracks and remixing them live for the first time. That is something I'm really looking forward to – to hear someone tackle songs in a brand new way that I may never have. Between each set, I will also be playing sneak peeks of the new album, coupled with one older track that I normally don't play live. At the end of the night, I will be performing a set myself – a combination of old favorites and brand new tracks of "The Jooks." We also have one other surprise to be announced that night for Quoth's future that will allow more people to be immersed in the Quoth experience – but we'll keep that one under wraps for now until the release party (winks).
In what formats will the album be available and how and where can people buy it?
The album will be available, just like all of my other releases, via Bandcamp at "pay what you wish" rate.  "The Jooks" has a release date of May 7/8- the reason for that is that I will be making the album available for download sometime during the night of the release party.
Besides the release show, what else will you be doing to promote the album? Any videos, etc?
We will be utilizing all of my social media outlets as usual – Facebook, Twitter, Instagram. Hopefully lots of word of mouth! There have been talks between myself and few others about possibly creating a video, but that's still being discussed currently.
I am also currently April's Featured Artist on local online radio station, Unsigned Radio. Bill and Vito had me up to the studio in Hawley, Pa., in mid-March to record a podcast about myself in promotion a ramp-up for the new album, and that podcast can currently be heard on their website. The two of them are great supporters for an unsigned artist like myself, allowing me the chance to have my music streamed online for a radio station.
What is the most memorable concert or music event you've been to?
Funny you should ask me that today when I just got home from Manhattan early this morning from seeing my all-time favorite and biggest inspirational electronic band Underworld for the first time. (something I've been waiting to happen for 2+ decades). It was more a religious experience for me than a concert and actually changed my life in the past 24 hours and beyond. It is so good to see a band that has been in my life for so long still making music in this genre and still doing killer live shows, feeding off the crowd's energy all night long. It was just awe-inspiring.
I would also like to add a little story, due to the literal minute event of what just occurred – the death of Prince Rogers Nelson. My dad took me to see Prince in 1985 during the "Purple Rain" tour. I was 12 years old, and my dad knew how important Prince was to me, so he got tickets in the ninth row at the Nassau Coliseum. It was my first exposure to what a true artist and performer is and encompasses and I will never forget it.
What artists had the biggest influence on you?
Like I mentioned before, I am influenced by so many genres of music across board – ranging from classical to metal, but I'll try to give you the short list. First of all, Underworld. Meat Beat Manifesto, Aphex Twin, Front 242, The Gary Goblins, A Tribe Called Quest, The Smiths, The Cure, Joy Division, Bikini Kill, Ani DiFranco, Amon Tobin, The Beastie Boys, The Clash, Depeche Mode, Prince, Bauhaus, The Prodigy, The Cocteau Twins, Skinny Puppy, EBN, and The Crystal Method just to name a few (chuckles).
Why did you choose Quoth as your stage name? What is your real name?
I didn't actually choose that name – it was chosen for me. When I was actually starting to take making music seriously and during the recording process of "The Alter Egos," I realized going by "Kenny Hill" wasn't very exciting for an electronic artist (laughs). So I went into a Skinny Puppy forum that I was frequenting at the time, and ask some of my friends there for some suggestions for a moniker. My friend Brian 'eeL' Albright, who did the album artwork for the first two albums and "The Harkers" remix EP, knew that I was a huge Aphex Twin fan and came up with the name Quoth. He asked if I got the reference, and I absolutely did, knowing it was the title of one of my favorite Aphex Twin songs. The name just stuck from there, and became my alter ego, for lack of a better pun (chuckles).
How old are you?
I'm old as dirt (chuckles). I'm 43, but like the saying says, you're never too old to learn (and I like to add the word contribute to that statement).
What other projects do you have planned?
Promoting and doing shows for the album, as well as continuing my side venture of DJ'ing '80s New Wave and '90s nights in the NEPA area. I am messing around with the idea of putting out two remix albums by the end of the year, one being a totally redone remix done by myself for the whole "The Ascent to Yearning" EP. I did a show a few months ago at The Keys where I performed the album in its entirety, all live remixed, and I would like to get that down, recorded, and released. The other remix idea I've been toying with is a career-spanning remix album involving like-minded musicians and friends, sort of like "The Harkers" EP, but with different songs. I'm always thinking of new ideas, but I'm looking forward to more collaborations in the future and definitely more things that will make me grow as an artist.
Is there anything I didn't ask about that you'd like to mention?
I want to thank you for taking the time out for this interview – I highly appreciate it. I would just like to shout out a couple of people if I can. My beautiful wife, Lady Hectic of Hectic Management and Promotions, for not only being my wife but also my boss. All of the people that have been involved in this album and all past albums. And to anyone who's reading this, thank you for the support and continue to support local music on all scales and sizes.
For more information on Quoth, visit:  http://www.facebook.com/quothmusic
http://www.reverbnation.com/quoth
http://www.facebook.com/hecticmgmtandpromos