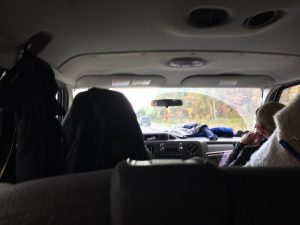 On the days leading up to this tour (or any run of shows for that matter), my days are pretty much spent the exact same way: gathering my things in the most frantic ADD-esque fashion possible. We travel in a 15 passenger van with 5 band members and 1 stage hand. Needless to say, space can get a little tight. My general approach is to travel as light as possible. 1 roller suitcase, 1 backpack, 1 amp, 1 pedal board, and 1 guitar. The less stuff I have to worry about, the better.
Week one of our tour begins on Wednesday with a day of filming and recording at Rittenhouse Soundworks studio in Philadelphia (the band's homebase city). For this tour, we are playing several "masquerade" themed shows in some of our bigger markets across the country (San Francisco, Denver, Chicago, and NYC). At these shows, we play a themed tribute set of music as well as a set of our own music. Our tribute sets include Radiohead (Boulder), The Beatles (Chicago), Grateful Dead (San Francisco) and David Bowie's final album "Blackstar" (NYC). We filmed one song from each for Relix Magazine to release the week of that particular themed show. After a full 8 hour day in the studio, Tommy headed over to the Tower Theater in Upper Darby to sit in with Bob Weir, who was performing a sold out show with members of "The National" and Steve Kimock. Feeling a little under the weather, I decided to crash out pretty early and skip the show.
Thursday and Friday: Luna Light Festival. Darlington, MD
After catching up on some much needed sleep, we packed up the van and departed from Philadelphia to Darlington, MD late in the afternoon for our last festival of the season. I have never played this festival before but was looking forward to it as the lineup was filled with a bunch of great acts including lots of friends and familiar faces. Other performers for Thursday evening included solo sets by Marco Benevento and Holly Bowling. Thursday was VIP only, so the crowd was lighter than the rest of the weekend but certainly equally as enthusiastic. Our Thursday set kicked off around midnight and was an encore performance of our Bruce Springsteen tribute featuring Aron Magner of the Disco Biscuits joining us on keys. This was a super fun way to kick off the festivities for the weekend, despite it being COLD as SHIT (48 degrees or so) outside for our set.
We spent the night on site at a 100 year old house that was used as the "musician house" for the weekend. I spent much of the afternoon relaxing and roaming the festival grounds. Our set was at 8pm on the main stage. This was a particularly special set as we welcomed a plethora of special guests including Marco Benevento, Holly Bowling, Aron Magner, and the horn section of Grammy award winning jazz ensemble "Snarky Puppy", who were artists at large for the weekend. Afterwards, I sat in with headliners Electron on a few numbers to close out the festivities for the day. All in all, this was definitely one of the most fun festivals i've played all year and certainly a great way to close out festival season. After the Electron set, we packed the van and began heading back to Philadelphia around 2am
Saturday: The Haunt. Ithaca, NY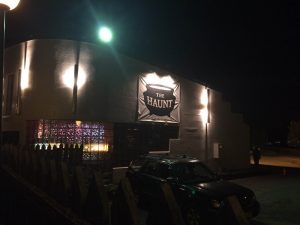 After crashing out for a few hours in Philadelphia, we grabbed some food and hit the road for Ithaca, NY. This was a beautiful 4 hour drive through upstate, NY. Our daily drives on this tour range anywhere from 2 to 7 hours. Typically, we try to avoid driving more then 3-4 hours on days we have shows if we can get away with it, even if that means leaving a day early to get somewhere. Being on tour means that you are constantly exhausted, so we try to not totally kill ourselves with driving to save some energy to perform on show days.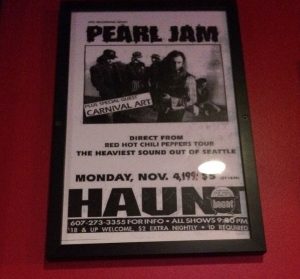 This was my first time performing in Ithaca with the American Babies, and I quickly learned that The Haunt was a pretty legendary small (capacity 250) music venue. Concert posters filled the walls with iconic bands that have once played the establishment. A couple notable names I caught included Pearl Jam, Buddy Guy, Phish, and a TON of others. After a pretty straight ahead load in, sound check, dinner, caffeination session…we hit the stage for two sets around 10:15. Despite Ithaca college being on brake this week, we still pulled in a nice crowd, and I thought that our playing was particularly inspired after our weekend at Luna Light Festival.
All in all, a super solid not too crazy week to kick things off. Join me next week as we venture through St Louis into the Rocky Mountains and beyond!
Guitarist Justin Mazer is a member of Tom Hamilton's American Babies. The 26-year-old Northeastern Pennsylvania native also plays with urrently JMMY, Electron, Lithium Angels, Chris Kearney and has performed previously with Leroy Justice, Miz, Heavy Blonde and King Radio. Visit his website at JustinMazer.com.