Leslie Mendelson's new album, "Love & Murder," is perfectly titled, a mysterious mix of stark romanticism and darkness. With an eight-year gap since her promising debut, and the self-doubt that crept in when her career was in question, it wasn't hard for Mendelson to tap into the melancholy that inspired much of the material.
"There was a lot of frustration  in my career at that point. I had gone to London, I had a record that never came out and wound up getting an opportunity to make a record with Glyn Johns. And having that existential crisis, and that was what 'Crazy' is about," shares Mendelson, on the phone from her apartment in Williamsburg, Brooklyn. "I was doing the same thing, at one point everyone loved it, and all of a sudden nobody liked it. I hadn't changed, and everything changed around me."
But, more important, "in true artist form, we don't give up and I fought through it," she says. The result is the emotionally arresting and musically disciplined "Love & Murder," due out April 14 on Royal Potato Family records. In advance of the album release and an April 25 release show at Berlin (25 Avenue A, New York City), we chatted with Mendelson about the themes that run through the album, working with a band and her unexpected collaborative relationship with Bob Weir, who appears on the album.
Some of these songs are close to 10 years old, but there seems to be a cohesive theme.
That's exactly right. The producer, Mark Howard, when I played him songs, I'd say the bulk of them are new; "Coney Island" is older, "The Circus Is Coming To Town" is older, "Jericho" is a little bit older, but "Murder Me," "Crazy," "Love You Tonight" and "Chasing The Thrill" are all newer. I played him a bunch of songs, but for some reason these songs just connected. There's a theme, there's a vibe and we kept calling it "the murder ballad record."
What did Mark Howard (Bob Dylan, U2, Neil Young) bring to the table?
I recorded a couple of albums, and they've always been productions, a lot of people involved, and this time it was just me and him. At the end of the day, it was me and my voice and the songs, and that's something I never did before, as far as make a full record like that. It was refreshing, even though it was vulnerable because I'm really putting myself out there. It was something that just had to happen.
You've been writing with Steve McEwan for a while. Why work with a writing partner?
I could write alone. Steve McEwan is pretty much my only partner. You know when you just connect with somebody. We answer each other's questions when it comes to writing, and it's a very natural relationship stylistically. He brings out the best in me,
Tell me about the recording of the song "Murder Me." It's almost a whispered vocal. Was that difficult to capture?
It was. I actually redid it. It was very different the first time I recorded it. I had been singing it a certain way, and [Mark] said, "Can you try to do it in a different style?" At first it felt so weird, but it really lent itself to the song.
One of the more notable songs on the album is your duet with Bob Weir on Roy Orbison's "Blue Bayou."
That actually happened before I started the record. I had an artist's residence at [Weir's] TRI Studios. I was working with [Widespread Panic bassist] Dave Schools, and when we were done, that's when Dead and Company moved in, so I was in town and they gave me a room to do my own thing. At the end of the week, Bob, he's super cool, AJ, his guitar tech, came in to check on me, and I was singing "Blue Bayou," and he said Bob would love that song, we ended up recording it. We're both playing and singing at the same time.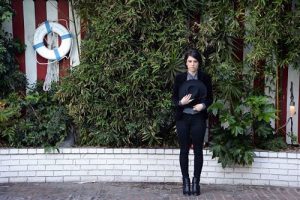 How did you connect with Bob Weir, Steve Kimock and that whole Grateful Dead/jam band universe?
That happened when I was in London. Justin Kreutzmann is a filmmaker and was doing a documentary on Pete Townshend, and they were in town and my management at the time said check out our artist. Before they came to see me, they saw this old clip of me singing "Friend Of The Devil" at the Relix offices, and they said, "Ah, she's a Head," and I was. I kind of grew up listening to Grateful Dead music. I never saw them live, but I did that song, and they said Bob would really love you. And he invited me to do "Weir Here" [his online talk show/variety show]. I met Dave Schools and Steve Kimock that day, and that started my friendship with everyone.
What are some of your favorite Grateful Dead songs? 
I love "To Lay Me Down," I like a lot of the stuff off of "American Beauty." I've kind of sung backup on "Tennessee Jed." We sing in the same key, Jerry and I; I don't have to change the key so much. I  like "Lazy River Road," I think he wrote it right before he passed away. I like a lot of the folky songs.
How would you describe the feel of your live shows?
I can definitely thank Kimock and that scene for kind of getting me to this next phase. I started working with a band again. I put a band together; my co-writer plays guitar, and there's bass and drums, and for the album release I'm going to get horns.
Tell me about your early years as a musician.
I feel like I've always been into, again, it always comes back to the songs. Great songwriters. I feel like I cross genres a lot. I just love the greats. I love everyone from David Bowie to Frank Sinatra.
What have you been listening to lately?
I was Just listening to Drake (laughs). I like Drake. Courtney Barnett. Margo Price.