Esta Coda, the Scranton indie rock band, had yet to write lyrics for the songs that would become "King Bitter," a new EP released Dec. 7. Then inspiration struck in the form of tragedy: Vocalist/guitarist Daniel Rosler's mother passed away from cancer.
"That type of stuff can make you kind of bitter and cynical, and nihilism is an easy trap to fall into," Rosler said in a phone interview this week. "That's not to say there weren't things to be happy about. You have good things going on in the shadow of the event lurking behind anything and everything."
The four tracks on "King Bitter" revel in the concept that it's OK to not be OK. That attitude is apparent right from the jump, with Rosler singing, "It's not an SOS that I take a few SSRIs" as the opening song, "Breathe," gallops out of the gate.
With tight arrangements and driving, melodic verses and choruses, the pop-punk-flavored band creates a welcoming and cathartic instrumental bed for some of the release's darker lyrical moments.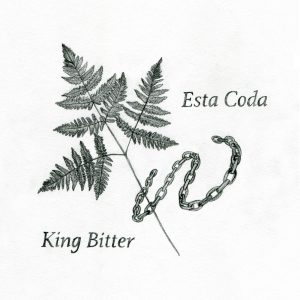 "It's a way to sort of juxtapose, maybe, I don't want to say 'happy,' but sort of melodic, upbeat songs with having some lyrical weight," Rosler shared. "At least for me, the hope is that they kind of balance each other out so you're not hit over the head with the melancholy in every direction, both musically and lyrically."
Esta Coda, who formed in 2012, is made up of Rosler, Jay Preston (vocals and guitar), Jonathan Fletcher (bass) and Thomas Twiss (drums). The quartet recorded "King Bitter" at Studio 4 in Conshohocken, Pennsylvania, just outside of Philadelphia, with producer Will Yip, who was nominated for a Grammy in 2017 for his work with the band Code Orange and has produced the likes of Circa Surive, Quicksand and the NEPA-spawned bands Title Fight, The Menzingers and Tigers Jaw.
Rosler said he first met Yip right after Yip was finishing Title Fight's 2012 album, "Floral Green," noting that the producer and engineer "was really just starting to break out himself."
"I just really loved the production on that album," Rosler continued, adding that he began listening to all of the records Yip had worked on, even if he wasn't a fan of the particular artist.
"I think I knew right after meeting Will that he takes the work seriously in a way that he quite literally joins the band; he'll very much act as a fifth member, not just treating it as a project to get done and then on to the next one."
Esta Coda has a few local shows lined up and some more dates to be announced. The next show on the books is Dec. 28 at Stage West in Scranton with Eye On Attraction and The Charming Beards. On Jan. 11 the group will perform at Karl Hall in Wilkes-Barre along with Black Hole Heart and Permanence, and on Jan. 17, it will support the politically charged Pittsburgh punk veterans Anti-Flag, also at Stage West.
"Well, I can't wait for the energy in that room," Rosler said of the Anti-Flag gig. "I think they helped channel a lot of people's political anger into art, which is not only a cathartic experience but also an invigorating one; it inspires people to take action. We needed that in the Bush era, and we need it now, too. It'll be a good night for sing-alongs."
Esta Coda has some music-industry heft working in its favor, with Yip, a new publicist and a track debut hosted by the popular blog Brooklyn Vegan.  We asked Rosler, that if it seems like all of this is leading up to something, what is that something?
"I would love to get started on another recording with Will, and it'd be really great if we could get some decent touring out of it," he said. "But I guess what's made me happiest is people have responded well, and just noticing some people who might have never heard of us perhaps discover us [thanks to] this sort of push, which is what you would hope for. So really just some touring opportunities and making some music."
Photo by Keith Perks