In the mid-'90s, the music of Everclear was inescapable. Hits like "Father of Mine," "Santa Monica," "Everything to Everyone" and "I Will Buy You A New Life," with their catchy California beach melodies infused with the angst du jour of the times, dominated the radio and MTV. With a resurgence of interest in '90s rock, it seems like perfect timing for frontman Art Alexakis and company to dust off the debut album that got the ball rolling for the band — "World Of Noise" is finally available on streaming platforms, something that wasn't even a consideration when it was first released — and a tour to celebrate the group's 30th anniversary.
Alexakis recently chatted with us about revisiting his angrier self to sing the old songs, failing to appreciate the band's success in real time and how he's been coping with multiple sclerosis.
Everclear's 30th anniversary tour, with fellow '90s standouts Fastball and The Nixons, comes to the Keswick Theatre near Philadelphia on Thursday, June 23, Penn's Peak in Jim Thorpe on Thursday, July 14 and Palladium Times Square in New York on Friday, July 22.
Has looking back on the debut album and marking Everclear's 30th year stirred up some emotions for you?
Yeah, there's been a lot of that, especially when I found the master tapes and decided to do this. It was pleasingly shocking in a way. It brought up a lot of images: how poor we were at the time and how hungry and musically hungry and pissed off all the time, and you can really hear it on that record. I hadn't gone back and listened to that record in years, and it's really great. Remastered it sounds even better.
In '94 I signed to Capital and licensed it to Capital. They remastered it and it was kind of not great sounding. And when it came back to me in '99, it kind of went into a box because what was I going to do with it at that point? We were peaking, I wasn't going to put out our first crappy $400 record. Now, it just sounds great. There were no digital platforms for it, that wasn't going to be for many years, even Napster. So basically it just seemed like the right time to do it, being the 30th anniversary of the band. A lot of images and memories. Most of them are probably more sweet than bitter.
At lot has happened in the world and in your life in 30 years. Do you have to go back to that place to sing the old songs?
I have to. I can't phone them in. "Father of Mine," you can't phone that in. My songs are too intensely personal to me. Not even autobiographical, but they are personal. They come from somewhere in my life. The early records have a lot more vitriol. When I go back and do these songs, yeah, I go back into that place. It's draining to do that, but also exhilarating to do that as well.
A few years later, "Sparkle and Fade" came out and the band blew up.  When you were in the thick of it — hit songs all over the radio and MTV — were you enjoying it? Was there stress involved with maintaining that level of success?
That's a really good question. I was in it too much and didn't enjoy myself like I should have. I didn't savor it, I didn't take a pause, not even to pat myself on the back, just to say, "Aw, man, just enjoy the good things." I felt the pressure to keep up with the stuff, and I did for two or three album cycles, great albums, what I thought were great albums with hit songs. Without trying to write hit songs, I was just in that zone, but I didn't enjoy it, I didn't savor it. I do enjoy it now. Now going back with the 30th anniversary, there's a retrospective with Matt Pinfield, it's old images again.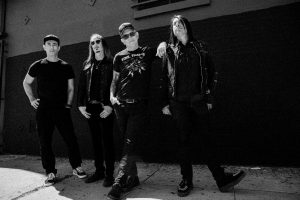 You've seen a resurgence in interest in the bands of the '90s with your Summerland tour and you have Fastball and The Nixons out with you this summer. What do you think is driving that demand, and do you get the sense it is people that were there in the '90s, younger people checking things out? Maybe a mix of both?
I think it's a couple of things. One, it's just old school, just kids kind of looking back. Like my daughter and her friends are wearing flannel. Everyone knows Nirvana. Even her friends know Everclear. OK, that's what teenagers do. When the '80s thing happened, all the hipsters were wearing mustaches and mullets, which sucked the first time around, but I get it. But I think there's a difference here because at our shows, 20 t0 30 percent are young people who know the words to all the songs. There's no rock 'n' roll out there. The '90s were the last time when there was new rock, not nu metal. So I think '90s bands are just getting a lot of attention for what was happening, and I get it, because all of us in the '90s who were musicians, we were brought up in the '70s and we came up with Zeppelin and Sabbath and Aerosmith and Boston and Cheap Trick. And then we lived through hip-hop and punk rock and new wave and Jane's Addiction and Pixies and all the underground stuff that was going on.
The press used to go, "What is this grunge thing and what makes you guys alternative?" You want to hear alternative? Go listen to someone on Amphetamine Reptile [Records]. This is not alternative. This is like rock and roll, great songs on the radio. This is what I know, this is what I live, and I'm just happy to be a part of the team, because that's what it was: some really great rock and roll in the '90s. And some bands that were truly alternative like Cake, a great band who had big hits. Kids were just using the title "alternative" because every rock station — "Buffalo X, Buffalo's alternative" — that's what the format was called at radio. There were 147 alternative stations. It was super powerful. If you broke at alternative, then you could go anywhere you want. You could go to heritage rock, you could go to active rock, over to pop.
Is there any new music coming from Everclear?
I'm not planning to do a new album. We have a new song coming in August or September, we're putting the finishing touches on it. It's called "Year of the Tiger." I was born in 1962 [a year of the Tiger in the Chinese zodiac.] It's about COVID and post-COVID and all the political bullshit. It's pretty angry, like "Heroin Girl" but a little more in the power pop era. It's pretty heavy.
Three years ago you revealed that you had been diagnosed with multiple sclerosis. How are you doing health-wise?
Yeah man, I'm doing pretty good. I was doing better before COVID, before I caught COVID in January 2021. I was in the hospital for two weeks, in bed for about another two months. It progressed my MS, but I'm on a better medication now. A pretty strict diet and exercise and physical therapy. I walk, but it's not pretty, and I have a lot going on as well. Right now, my health is really good. I saw my specialist a few days ago, and she said that after seeing a new MRI from last week, my lesions are smaller and no inflammation, so that's good. I gotta work at it hard, harder than I want to, because I'm not by nature a really working-out kind of guy. But I want to be around another 20 years and I don't don't want to be in a wheelchair.
I go on tour. I don't jump around as much as I used to, but I still put on a pretty good show. Sobriety is good. I'm in a great program. Family is good. I have a daughter at high school, the high school of the arts. Living life, man.
Photos by Ashley Osborn