Philadelphia's Low Cut Connie descended on Austin for South by Southwest, where music lovers were treated to its high-energy, soul-based rock 'n' roll. Formed six years ago by pianist Adam Weiner and drummer/guitarist Adam Finnemore, Low Cut Connie have won fans like President Obama, who included their song "Boozophilia" on his Spotify playlist. "Hi Honey," the most recent album, features a surprising list of collaborators (see below), and the live shows are always a joy.  With SXSW under its belt, Low Cut Connie will continue playing the East Coast in April. Check out the band's official web site for dates: http://lowcutconnie.com.
We had the opportunity to chat with Weiner at SXSW.
Your latest album, "Hi Honey," has an eclectic list of guest stars: Dean Ween, tUnE-yArDs, and members of the Dap-Kings. What was it like working with these artists?
Adam Weiner: It was an amazing experience working with some of our heroes and most-talented pals. I was shocked that they all said yes! Mickey, a.k.a. Dean Ween and Greg Cartwright from Reigning Sound were both heroes of ours that added a lot to those tracks. Merrill from tUnE-yArDs is a dear old friend and one of the greatest singers/writers working today without a doubt. And I cannot overstate what the Daptone horns and most importantly, the vocals from our three Daptone-affiliated singers (Saundra Williams, Wondress Hutchison, and Alecia Chakour) added to this record. . . .They took the record to another level.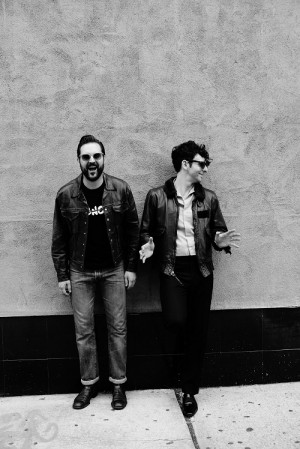 The actor Vincent Pastore makes a cameo. How did that come about?
Adam Weiner: I am a "Sopranos" fanatic. . .and I had a crazy idea to get the guy who played Big Pussy into the studio to do some kind of voiceover. Vinnie and I have a mutual friend who put us in touch, and although he wasn't able to make it into the studio, he was willing and thrilled to give us something over the phone. So I had him leave me a voicemail, and we found a way to work it into the song. There's no way we could have faked that; we had to get the real Big Pussy.
The influence of classic, old-school r&b is heard in a lot of current bands — yourselves, the Dap-Kings and Alabama Shakes, for example. What do you think explains r&b's continued appeal?
Adam Weiner: I think that rhythm & blues is America's greatest contribution to world culture. . . .It should never die and it never will.  Low Cut Connie has always drawn upon old black rock 'n' roll, soul and boogie music of all varieties. I think those are vibrations that many other acts are feeling right now as well. . .I think we just have our own thing that we're doing with it.
You've said that your first album was more informal, and you weren't really a band yet. Was there a learning curve where you learned to play together as a band?
Adam Weiner: Absolutely. "Hi Honey" was the first album that we made after having played hundreds of shows as a live band over the course of three years. The first two albums happened before we were really a consistent live act. By "Hi Honey" we were a bunch of road dogs. That changes everything for a band.
Were you surprised by the critical/media buzz you've gotten? After all, you're on Obama's Spotify playlist!
Adam Weiner: We've always been blessed by great press and a lot of love from many music writers and curators. But being selected by the president for his playlist was an indescribable honor that I still can't process. You don't ever write a song and expect it to travel to the president's desk. It's been a really amazing thing.
What's on your playlists? Are you fans of any particular era or genre? Or are your tastes all over the map?
Adam Weiner: All over the map, but the bottom line is I like music that moves my ass and touches my heart. . . .Music with soul . . . Doesn't matter if it's rock 'n' roll, country, rap, salsa, or Icelandic hymns. . .if it's a good song, and it moves me, I dig.